Acceptance From Outsiders
For most people, December means the holidays are on the horizon. For high school seniors, it's crunch time.
My friends were juggling schoolwork with college communications and campus visits. Meanwhile, I was in a different position. I was sitting in history class with Mr. O'Connor lecturing – I couldn't tell you what about.
I typed my.ithaca.edu into the address bar of my laptop. MyIthaca was like Facebook for prospective students. I logged in from time to time, to the point where it was more of a habit than anything. Typically, I'd log in, confirm the expectation that nothing was different, and turn my attention to something else (something other than the lecture). By now, this routine was automatic, so you can imagine the small shock I had when a yellow bar flashed across the screen. It read: Accepted.
I was accepted early decision to Ithaca College.
The next sequence of events is a blur. I don't remember which came first – running out of history class, calling my mom, or ambushing my coaches. I suppose as logistics would have it, running out of class came first. After my euphoria subsided, you bet I called the Ithaca coaches, too.
That initial excitement of acceptance is representative of my cumulative college experience. I'm lucky. If I could go back and do it all over again, I'd pick Ithaca every time. If I was six inches taller and had the chance to go Division I, I would still choose Ithaca.
I say this to everybody I meet: my favorite place in the world is Ithaca, New York. I'm going to tell you why.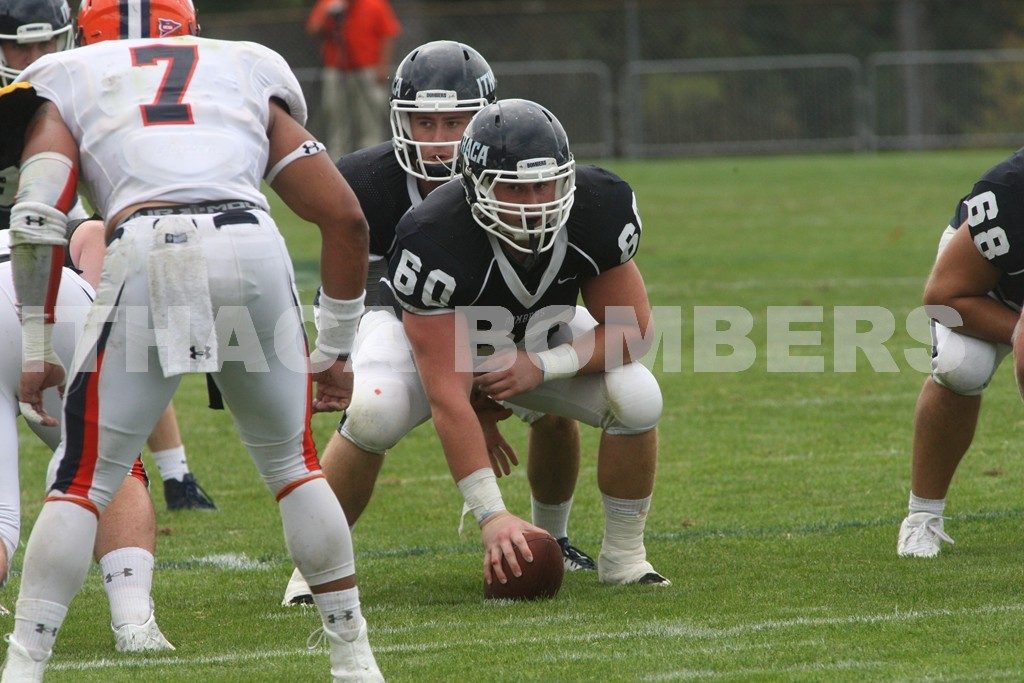 My coach was very realistic with me. I had options. Division I was not one of them."
Learning My Limits
It all started with my dad signing me up to play flag football when I was eight. I was inarguably the worst kid on the team: very chubby, but not very coordinated – not the best distribution of attributes for football. But that following summer, my dad signed me up for a couple of football camps. He never played football, but he believed in me and pushed me to do my best. Between my dad's encouragement and my own natural love of the game, I never lacked in motivation. As a consequence of my dedication, I improved into a decent player.
I was in 8th or 9th grade when I realized that I wanted to play football in college. At that time, I had no sense for what level I would play. First, I wasn't finished growing. I didn't know how tall or big I would end up. Second, my strong track record for progress in the first part of my football development left me confident in my ability to climb levels. Like most kids at that age, I was hoping to go DI.
My coach was very realistic with me. I had options. Division I was not one of them.
I'm not gonna lie – this honesty was difficult to handle. It took time to appreciate how pivotal a role his candor would play in my athletic success. I owe a lot to my high school coach for being direct with me. Giving an idealistic high school athlete a real representation of his or her degree of competitiveness isn't easy. Now I understand what my coach knew then: realistic expectations do not limit your options; they expand them. Realistic expectations don't kill dreams; they force you to focus.
Strategy without tactics is the slowest route to victory. Tactics without strategy is the noise before defeat."
-Sun Tzu
Narrowing the Search
At the time, I was fortunate enough to play alongside many Division I players. Seeing how they were bigger, faster, stronger, and a bit more talented in some regards helped me come to terms with the level I should pursue.
I was going to play Division III. But the decision to accept this limitation illuminated another one. South Florida did not offer a large selection of Division III schools. If I wanted to play DIII, I would have to search in the Northeast. But Division III football schools don't have the same recruiting budget for flying to games as their counterparts in Division I. I wasn't going to let that stop me. Rather than view size, level of play, and geography as limiting factors, I chose to view them as constraints to help me isolate the schools which would qualify as my perfect fit.
After exploring my DIII options, I stopped romanticizing Division I. The notion that DI is the only option worth pursuing is misguided and simply untrue. There are talented players and a high level of competition at every level. Many high level players realize that the perfect school is one that is simultaneously an academic, athletic, social, and financial fit. Sometimes, that perfect school is DI. Sometimes, it's DIII. In order to find my perfect fit, I had to be certain that the school I chose had a serious football program, regardless of division.
I grew up in a hotbed area for Division I athletic recruiting. Coaches from large Division I schools like the University of Florida and UNC visited my school to watch Division I level prospects. Division III schools just don't have the same budget for recruiting. As a Division III player, recruiting came down to how much work I was willing to put in. For me, it was a matter of having college coach contacts in my phone."
Taking Action
Nick Passarella, a former teammate of mine, played at Ithaca College, a top ten Division III program with a historic tradition. This was what first prompted me to look into the college, but it was Ithaca's strong communication school that sparked a serious interest. I wanted to be a SportsCenter broadcaster at the time (my journalism major didn't last through second semester of freshman year, but it served its purpose by enabling the discovery of my dream school).
I did my own work. My initial interaction with Ithaca was a cold email to Coach Welch with a link to my highlight tape. This poorly written letter was the catalyst that kickstarted an ongoing conversation. Soon, the recruiting coach for my area began calling me on the phone. Even with expression of interest from Ithaca's part, I sustained my initiative. I shot them an email every once in a while to make sure they wouldn't forget about me.
It was tough. I had no idea what was going on. I was just sending out emails. I grew up in a hotbed area for Division I athletic recruiting. Coaches from large Division I schools like the University of Florida and UNC visited my school to watch Division I level prospects. It's different for a Division III player because of the budget issue. As a Division III player, recruiting came down to how much work I was willing to put in.
Let me say that again, so you don't miss it: as a Division III hopeful, recruiting comes down to how much work you're willing to put into getting recruited.
My Perfect Fit
I remember the first time I visited Ithaca as a prospective student. I was going into my senior year and was on campus for their summer camp. Summer in upstate New York is beautiful. Prior to this, I had no conception of New York outside of New York City. Ithaca College was located in the middle of nowhere. My imagination interpreted this to mean farmland and open pastures. The reality is that Ithaca has more restaurants per capita than New York City.
At first it was a culture shock, in the best sense. Once I saw the campus, I just thought, wow. Ithaca may be surrounded by nothing, but the town is a world in its own right – vibrant and thriving. In Ithaca Commons, window displays stretch as far as the eye can see. Everything felt right, from the atmosphere downtown and campus, to the coaches and other recruits I met. It all seemed to click. One of the guys I met at that initial camp ended up my freshman year roommate. Needless to say, I fell in love with Ithaca College. I applied early decision and was accepted.
With its long tradition and stability, Ithaca is special. They preach family. Sixty kids comprised my freshman football class, but we became friends instantly through our love of the game. The strength of that initial bond with teammates – the fact that they automatically become your friends – made the thousand mile journey easier. Going from South Florida to Upstate New York was a great adjustment, yet I never once felt homesick. My coaches and teammates were always there for me. Of those sixty freshman, only about thirty remained on the team senior year – the rest either quit or got cut. Our friendship endured even after it was no longer facilitated through football. My roommates didn't play the last two years, but remained my best friends.
I'm lucky because I made the right choice. What if you could plan for feeling blessed? That's the beauty of finding the right school for YOU.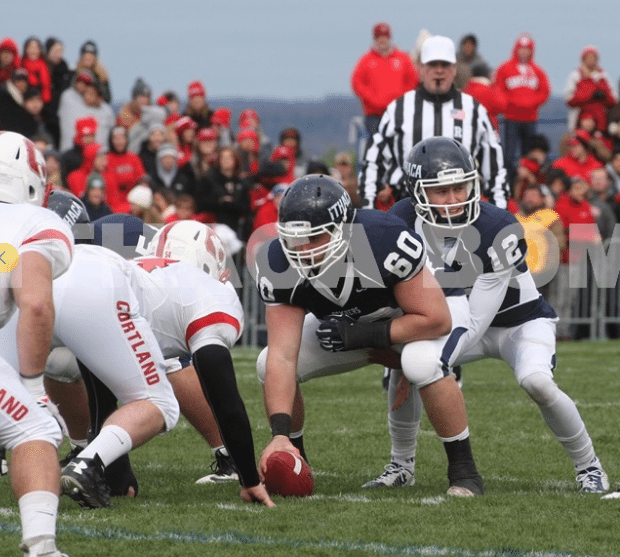 Life After College
Some things don't last after college, but it's surprising the ones that do. Leaving Ithaca meant that I lost my teammates, and gained lifetime friends. My playing career may be over, but life after college is good.
My friends and I met up at Ithaca last weekend, but between these reunions, group chat has been the best way to keep my Ithaca friends involved in each others' lives on a daily basis. We text the same amount we did when we were still living together. It's not just a handful, either; the majority of the guys in my graduating class and I stayed close. We jump on any excuse to return to Ithaca and enjoy each other's company like old times.
College is an expensive decision. It's a four year decision that sets you up for the next forty years of your life. Finding the right school, whether it's 10 minutes from your house or 10,000 miles from your house, is the most important thing a high school athlete can do. The value of finding your right fit spans the course of a lifetime. You will have memories that last forever. You will have friends for life.
My Advice
Understand your level of play. Kids always wanna go Division I, but that's not realistic for everybody. Be wary of letters from colleges. Just because you receive letters from DI schools does not mean that they are interested in you. Colleges want everyone to attend their camps. Do not use this as a measure of your options. Instead, listen to your coaches. They've seen you play and are thus better equipped to assess your skill level.
There are more DII and DIII spots than there are DI. Don't knock the level of competition until you've actually been a part of it. Throughout my Division III experience, I've played many great players that could have easily gone Division I. DIII was just the right fit for them. Don't close yourself off to opportunities.
Go outside of your comfort zone. Have an open mind, because you never know where you might find your perfect fit. Broaden your search to find the right school. A state you've never set foot in may house the school that feels like home.
Enjoy it while it lasts. Playing college sports is a very special time. I didn't realize just how special until my career was over. The process to get there is a hectic one. Take it in stride and enjoy the journey.
Find your dream school with School Search.
Need extra guidance? Find your dream school with SportsRecruits Insights.
Found your dream school and ready to talk to coaches?