Introduction
If you are in the 2018 graduating class and have not yet committed, you're probably starting to feel the heat. Fear not! We have a plan for you. If I could go back in time and give myself advice in the recruiting process, it would be: Don't Panic!
In the webinar, we learned:
The actions committed athletes take to get recruited
Your 6-month roadmap
How to analyze which events are worth attending, and how to maximize each
The Recruiting Process is FAIR
"The players who are working towards a great outcome will still get the outcome they deserve."
-Matt Wheeler, SportsRecruits Co-Founder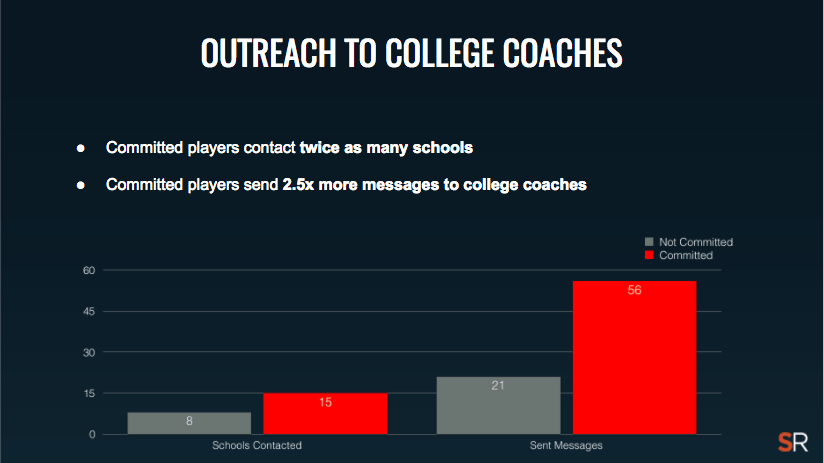 Going through recruiting, I felt that the process was stacked against me, and that my committed teammates were somehow "getting lucky." Looking back, it was not bad luck that was holding me back – it was lack of effort.
In order to turn the tide in my recruiting process, all I needed to do was to try harder. At SportsRecruits, we are able to see tens of thousands of families go through this process on our platform everyday. There is a clear difference in the amount of work committed athletes put into the process versus their uncommitted counterparts. For uncommitted rising seniors, now is the time to ramp up efforts in order to achieve the desired outcome.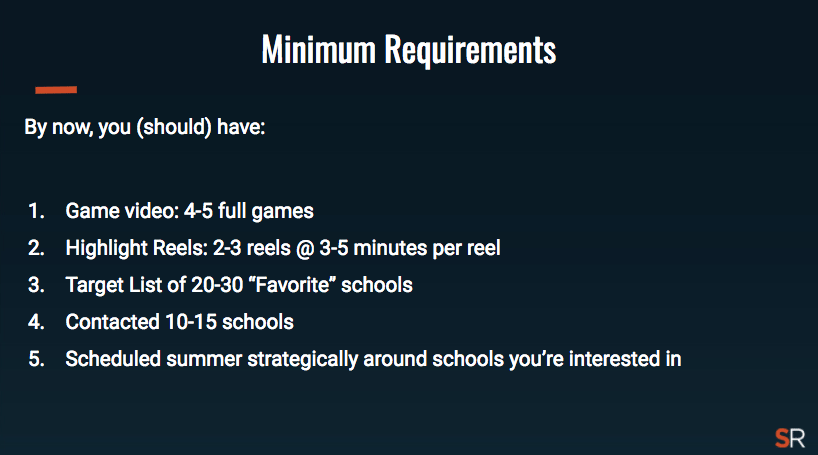 Minimum Requirements
Prepare to make the most of the next six months. Final evaluations will take place during this summer circuit. Make sure you are ready! By now, you should have:
4-5 full games filmed.
These games can either be from junior spring season or from previous summers.

2-3 highlight reels.
You want to be able to show your progression as an athlete. Each reel should be comprised of twenty clips and under five minutes. Average viewing time for player video is 3.18.

Target list of 20-30 schools.
Break this list into Target, Reach, and Safety schools. At this point, the majority of the list should be made up of DII and DIII programs. Most DI programs have already filled their 2018 recruiting class.

Contacted 10-15 schools.
Player outreach is the main driver of recruiting activity. This outreach must increase in the summer. Give college coaches a reason to see you play in person.

Summer Schedule.
Making the most out of each event is crucial to making a commitment.
Choosing Your Summer Schedule
College coaches make final evaluations this summer. With thought and preparation, you can ensure getting the most out of every event you attend.

Choose the right events. Consider these guidelines when making your selection:
Choose 3-5 individual showcases to attend
Choose events that offer the greatest amount of exposure
More coaches = more opportunities
Prospect days have limited exposure
Choose premier events. Use these tips to help you assess the professionalism of an event:
How does the website look?
Do they offer video?
Are there any testimonials?
Choose events based on location. This can be a great opportunity to get onto a college campus.
Event Outreach
Before the event
Now – Make sure you have all up-to-date information
3 weeks before – Notify the coach you will be there
2-7 days before – Update the coach with your team/field/jersey info
During the event
Get video
Focus on your game
After the event
1 day after – Follow up with coaches in attendance
7 days after – Distribute your video to the rest of your target schools
End of Summer 2017 – Get a highlight reel and distribute it

D3 Showcase Summary




Full Disclosure – SportsRecruits operates the D3 Showcases. We have been running the boys event for the past five years. This is the first year that we are running the girls event. The director for the boys event is Matt Colombini (Emerson College Head Coach). The directors on the girls side are Blair Ingraham (Wesleyan University) and Natalie Moore (Amherst College).

We had over 67 college coaches at the Boys D3 Winter Showcase. You can see the full list of coaches in attendance on our event website: D3 Lacrosse Showcase.

If you are interested in registering for the event, please take a look at the event packages below.

D3 Boys Summer Showcase Packages
D3 Girls Summer Showcase Packages

Need more guidance?

If you need further help navigating the next six months, we recently launched SportsRecruits Insights, data analysis and a personalized educational curriculum delivered by your Insights Analyst.