Here's Everything You Need to Know About Our New Athlete Profile Layout!
You may have noticed that your SportsRecruits profile looks a little different from the last time that you logged in. Our product team dedicated months surveying college coaches, and learning what they are looking for from student-athletes in the recruiting process. Throughout this process, we gained a great understanding of what information is most important to a college coach. We utilized this feedback to optimize the student-athlete profile on SportsRecruits to ensure that the most important information is featured at the top of your profile and easily accessible for coaches to see.
The functionality of the profile is all the same as before. However, there are two new features added to the profile; The Featured Video and the About Me Section!
Featured Video
Video is essential in today's recruiting world. Now, you can choose one video from your library that you want every coach to watch and feature it right next to your name on your profile.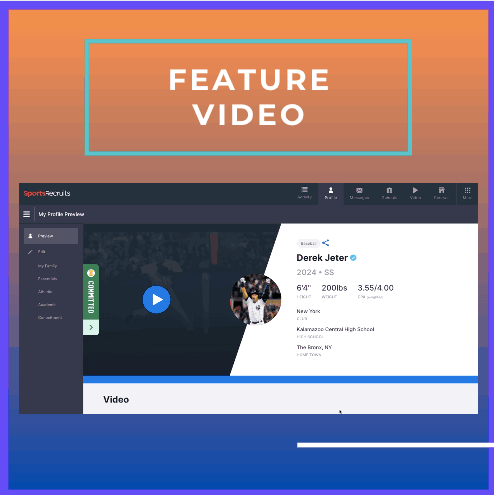 How to Choose Your Featured Video?
The Featured Video is the first video that appears in your SportsRecruits Video Library. To determine which video is the first video in your video library, follow the steps below:
Log-in to your SportsRecruits account here
Navigate to the 'Video' tab located on the toolbar!To change a videos order, simply drag and drop the video to change where it is located in your Video Library! 
If you have not uploaded any video to your SportsRecruits profile yet, or you're not sure what you should choose as your feature video, take a look at our article HERE.
About Me Section
In the "Essentials" Tab, of your profile, we added an athlete bio section to allow you to introduce yourself to coaches with a personal statement.
Through your SportsRecruits bio, college coaches can gain a better understanding of who you are as a student-athlete, what your interests are, and a better idea of who you are beyond the stats displayed on your profile.
There is an 800 character limit, so you'll have to keep it to just a few sentences. Your bio is the one place you can define yourself in your own words. Whether you use it to put your academic or athletic career in context, highlight your biggest achievements, or show off your personality, the summary is your chance to put your best self out there! You can find more information about what to write in your bio in our help article HERE.

Example of What you Should Have in your Bio
"My name is Emily Smith. I am currently a forward playing for Wildcats club out of New York, New York. I am currently a 2021 and attend SportsRecruits High School. I have made the varsity basketball team since freshman year. I average 10 points a game, 2 steals, and 1 assist.
I am currently involved in pottery club and the yearbook committee. And I am also the president of the athletic association.

I am interested in studying business or government in college.

Feel free to message me if you have any questions!
How to Optimize Your Profile
To ensure you are using your SportsRecruits profile to the best of your ability, make sure you have an understanding of all aspects of your profile. and the different tools. Below are some of the most important areas to utilize!
Target List of Schools– Your favorite's list of schools on your profile gives you the chance to build a list of schools you are interested in, and track the progress throughout the recruiting process. The School Search feature also you to search for schools based on a certain criteria. It is a chance to discover new schools that fit your interest that you may have never heard of before.
Video Section– Your SportsRecruits profile gives you the ability to upload unlimited videos or embed from Hudl, Krossover, Vimeo and Youtube.
Messaging System-With the messaging system you have the ability to contact any college coach in the country for your sport with just a few clicks. With every college coaches contact information, you simply type in the name of the school you wish to contract, and a drop down appears with the coaches contact information ready to be embedded.
Sign up today and get all of the benefits of the new profile layout!
Want to stay up to date on all things recruiting? Follow us on Instagram, Twitter, and Facebook!
About the Author
Mike Babich is one of the Insights Analyst at SportsRecruits. Mike has experience in collegiate athletics as a former football student-athlete at Mount Ida College, as well as a Graduate Assistant and Assistant Football Coach at Long Island University. He also served in the role of an Admissions Counselor for two years at Molloy College in Rockville Centre, New York. He has a passion for helping student-athletes better navigate and understand the recruiting process.