There are only two options regarding commitment. You're either IN or you're OUT. There is no such thing in life as between."
–Pat Riley
Exposure Under Your Control
To get recruited, you need exposure. In other words, coaches need to see you.
But college coaches have a lot on their plate. Even if you're a great athlete, unless you're in the top 0.1% in the country, coaches will not know about you. That is, until you tell them. If you want to get recruited, you have to take the initiative and start the conversation.
Here is a fundamental truth of recruiting:
You get what you put in.
At SportsRecruits, we are always digging into the data to give our members an edge. Ever wonder how many schools kids that commit contacted? Ever wonder how many messages committed kids sent? Thanks to technology, we have those answers. Read on!
The Impact of Contacting Schools on Exposure
Take a look at this graph. It illustrates that athletes that send more messages also receive more profile views from college coaches.


People will fly across the country to "get exposure," when they can "be seen" while sitting on their couch at home. Please do not be lazy when it comes to your outreach to college coaches.

80% of committed athletes contacted more than ten schools on the SportsRecruits platform. 50% of all committed athletes contacted more than thirty schools. The link between contacting coaches and commitment success is clear. If you want to stack the deck in your favor, put yourself out there and contact your target list of schools.
The Impact of Contacting Schools on Commitment Success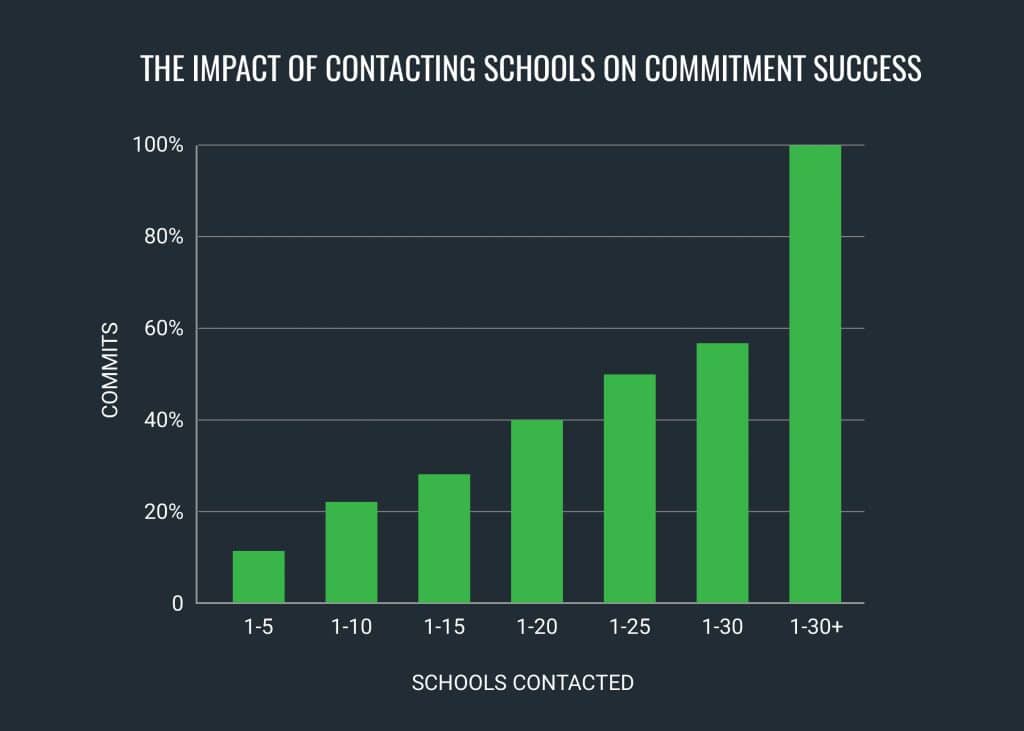 You can guarantee exposure from college coaches by messaging them. The simplest way to get on a coach's radar is to ask.
You can control the outcome of your recruiting process. Don't wait for coaches to come to you. Proactively reach out to them.
As a SportsRecruits member, every college program in the country is a click away. It couldn't be easier to put yourself out there. Not only that, but you see in real time as college coaches view your profile and watch your video.
Contacting College Coaches
Great! This all sounds well and good…until the anxiety sets in. The prospect of contacting a collegiate coach is daunting. They're adults and belong to a prestigious program. What do you say? Where do you start?!
We got you.
We want to empower you to contact coaches with confidence. To do this, we've compiled this comprehensive post covering everything you need to know about contacting college coaches. We've included links to our blog posts covering a range of topics you may have questions about when it comes to contacting coaches.
You can use the Table of Contents to jump to the topics that interest you, or read in chronological order if you're at the start of your recruiting process.
Let's go!!
Table of Contents
Chapter 1. How to Figure Out Which Coaches to Contact
To start getting the exposure you deserve from college coaches, you have to begin by sending messages. But where do you start? You can't send a message before first identifying who it is going to.
Step one is to make a big list of your favorite schools.
Notice that 80% of committed athletes favorited over five schools. Favoriting schools is correlated with athlete commitment success, much like contacting schools. This is because the actions of favoriting schools and messaging them go together. How can you know which coaches to contact if you haven't identified your target schools? On the flip side, once you've found your dream schools, how can you not be excited to get them to notice you? Just adding a school to your target list is not going to do it…you need to take the leap and reach out to those programs!
The Impact of Favoriting Schools on Commitment Success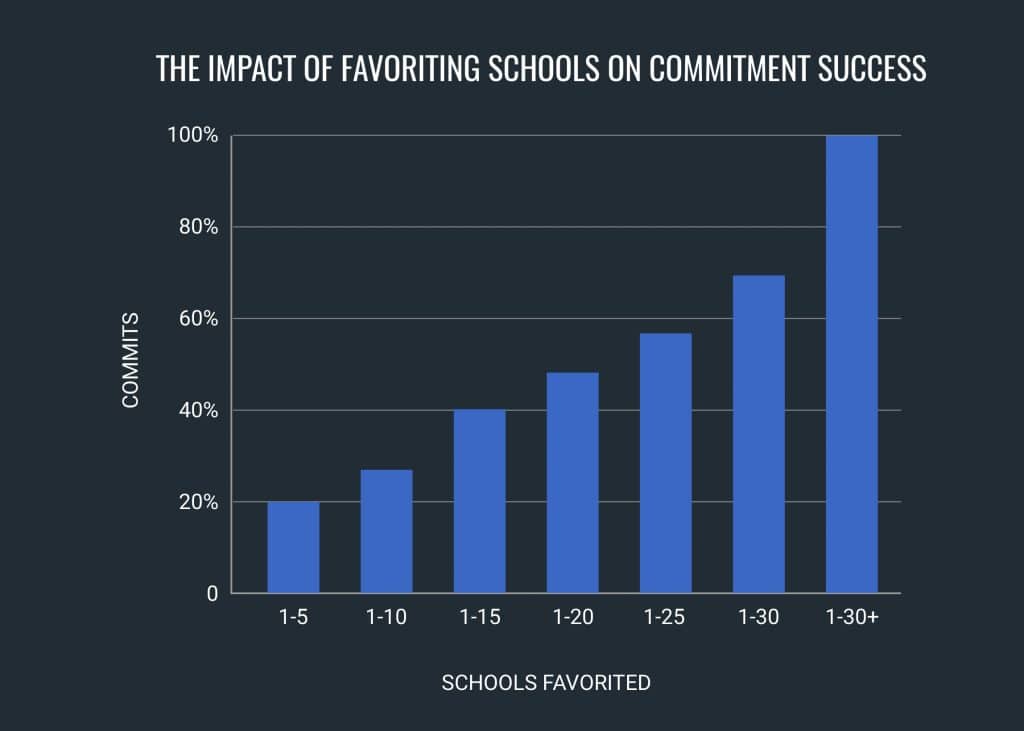 The first step is to find the schools that interest you. Then you can take the next step and start the conversation. Here are some resources that will help you do that.

Get Recruited From the Comfort of Your Phone →
How to Build a Target List of Schools →
Find Your Dream School →
If You Got a Career-Ending Injury, Would You Still Choose That School? →
Too Embarrassed to Ask: When Should I Kill the Division I Dream? →
5 Reasons Why DIII Was My "DI Dream" →
Why I Wouldn't Trade My DIII Experience For Anything (Not Even DI) →
The Comfort Zone Is a Myth: Why You Shouldn't Anchor Your College Search to Home →
Chapter 2. When to Reach Out to College Coaches
There is not a single NCAA rule that keeps you from chasing your dreams. No NCAA rule is keeping you from inviting a college coach to have a look at your profile and watch your video.
–SR Recruiting Guide
You have a list of favorite schools. You're beginning to imagine filled stadiums, hilly lawns, and old buildings. College.
You can't help getting excited.
You're ready to take the next step and talk to some coaches. But something's keeping you from going for it. Is it too early in your process? Will sending an email break an NCAA rule?! Are coaches even allowed to talk to you??
Don't worry. It's never too early to get a head start on your recruiting process. Introducing yourself to a college coach while you're still coming into your own as an athlete gives the coach an opportunity to track your development and progress (which coaches like). It's never too soon to get onto a college coach's radar. When it comes to recruiting rules, the dominant guideline you should always keep in mind is this:
Athletes are allowed to reach out to college coaches whenever they want.
There is no rule against student-athlete outreach. Contact coaches as soon as you've identified programs that seem like great potential fits for you academically, athletically, and socially.
Pro-tip
Think of the recruiting process as a learning process. Contacting coaches kickstarts the process through which you discover your dream school. The combination of campus visits and conversations with college coaches will help you find the school that will be a home.
Here are some additional resources to put your mind to ease.

When Should I Reach Out to College Coaches? →
3 Keys to Engaging and Reengaging with College Coaches →
When Can College Coaches Contact High School Athletes? →
September 1st Arrived, Now What? →
Chapter 3. How to Write the Perfect Message to a College Coach
In this section, we will prepare you to write the perfect college-coach-approved message each and every time – wherever you are in your recruiting process.

How To: Write an Email to College Coaches →
5 Things To Include In Your Messages to College Coaches →
Sample College Recruiting Email Template to Send to a College Coach →
What to say in an Introductory Email to a College Coach →
How to Follow Up With a College Coach After an Event →
How to Get a College Coach to Your Games →
Checklist: What To Say in Your Letter to a College Coach →
Chapter 4. Consider Your Message From the College Coach Perspective
It's important to remember that recruiting is about communication – and communication is a two-way road. Put yourself in the college coach's shoes. Understanding how your message and profile may look to a college coach may lead you to reevaluate your approach.
Another thing to keep in mind is that your email may be the first point of contact that a college coach has with you, but it is not likely to be the last. Coaches evaluate your character based on the components that you present them with (your emails, your online profile, video, statistics, transcripts). But that's not all.
More than ever before, college coaches are now scouring social media to deepen their understanding of a prospect's character and personality. With this in mind, don't forget to screen your social media presence. Review your accounts as though through the eyes of a college coach. If they don't pass this test, adjust your content accordingly. Exercise good judgment. A social media post is not worth jeopardizing your college placement.

How College Coaches Work →
Athletic Recruiting in 140 Characters: How to Use Social Media in Recruiting →
Takeaways: Commit to Your Dreams
There's no way around it. If you want to commit, you should be sending college coaches messages. Take it from our unmatched proprietary data compiled from thousands of committed athletes: you're at a disadvantage if you haven't sent a message.
We hope this article helped put your mind at ease about what you have to do to kick your recruiting into overdrive… but don't stop there. Don't walk away from this article feeling enlightened, only to forget about it. Do something. Dedicate yourself to your dreams. Start contacting college coaches. Take control of your recruiting process.
Commit.
[maxbutton id="2″ ]

If you'd like more recruiting guidance, we have just the thing for you. Download your free interactive recruiting guide today.