On September 16th, the NCAA Division I Council Coordination Committee released updates regarding COVID-19 and how it will affect the recruiting process. They have decided to extend the recruiting dead period (as defined in NCAA Bylaw 13.02.5.5) to January 1st. This means that there is no in-person recruiting between college coaches and prospective student-athletes until that date. The Committee will continue to monitor the situation closely.
The council also added emergency legislation which halts schools from giving complimentary game tickets to prospective student-athletes and their high school or two-year college coaches during this dead period.
The NCAA will continue to evaluate these recruiting decisions over the next few months, even as decisions to Big 10 Football the weekend of October 23rd.
Here is a link to the full announcement from the Division I Council
What about DII, DIII, NAIA, NJCAA?
To learn about these organizations and their updates regarding COVID-19 and how it is affecting the recruiting process, please refer to our updated graphic below: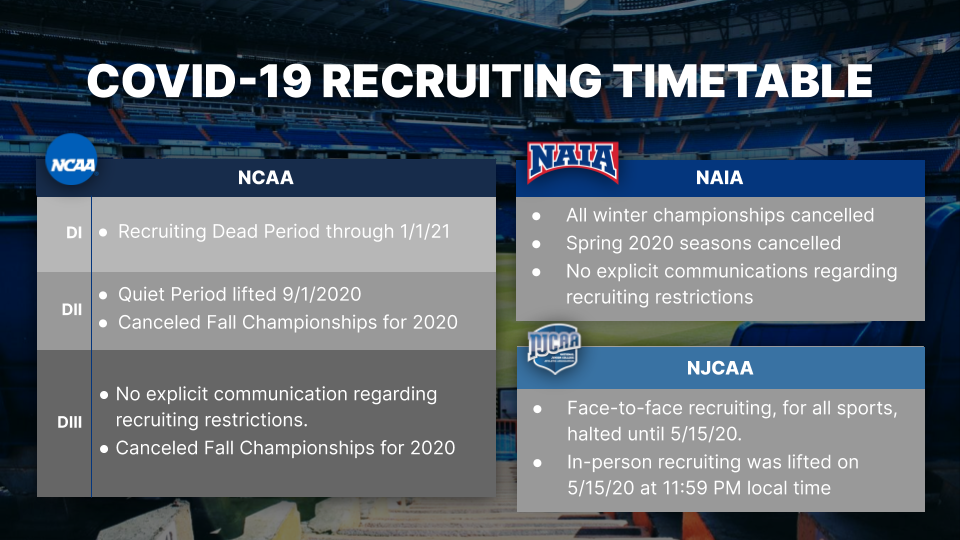 What Should I Be Doing?
With the dead period continuing to get extended it is important to not slow down your recruiting process. There are many things that you can be doing to ensure you are continuing to progress.
Stay Healthy: The most important thing that you can do is stay healthy. To learn more about preventative measures you can visit the World Health Organization website.
Make Sure Your Recruiting Profile is up to Date: College coaches are unable to evaluate athletes on the field or court right now. It is time to make sure you are using technology to your advantage. College Recruiting profiles like the SportsRecruits profile are a way for college coaches to assess you from afar.
Update Your Videos: Because college coaches cannot see you in person, video is the perfect way for college coaches to see you play. Make sure you update any highlight reels or skills videos as well as make sure you have raw game film up on your profile for college coaches to see. If you do not have any new footage, you can create a skills video, cardio video, etc.
Catch Up on Your Messages with Schools: College coaches are still allowed to recruit by written correspondence as well as telephone calls. Review your past messages with college coaches and be sure to reach out with any updates about your season, your video, or on your academics.
Talking To Your Coach About Your Favorite List of Schools: This is a good time to reassess your list of schools. With a dead period in place, you can take a little time to do the research on the schools you are interested in and send them over to your coach for feedback.
How can I Stay up to Date on Important Announcements?
Follow SportsRecruits onInstagram, Twitter, and Facebook where we will be posting important recruiting updates as information changes. You can also follow the Inside the NCAA Twitter channel, the NJCAA Twitter and the NAIA COVID Updates page where they have been posting updates in real-time. Lastly, check out the NCAA website for additional updates and resources.
How Do I Access My SportsRecruits Profile?
If you already have an account with us you can log in here.
If you are interested in signing up for SportsRecruits for free, click here!
Want to stay up to date on all things recruiting? Follow us on Instagram, Twitter, and Facebook!