September marks an important date surrounding communication between prospective student-athletes and college coaches at the Division I level. This is when prospective student-athletes and college coaches can start to engage in more serious conversations regarding recruiting. If you are in the high school graduating class of 2022, this information is extremely important!
What Division I Sports are Affected by September 1st?
For the NCAA Division I, September 1st going into your Junior year is the allowable date for college coaches to initiate or engage in recruiting-related discussions. The sports affected by September 1st are listed below:
Baseball
Softball
Women's Basketball
Men's Lacrosse
Women's Lacrosse
Football (*except for one call between April 15 and May 31 of junior year*)
The below graphic shows important dates across all Division I sports. This includes when college coaches can contact a prospective student-athlete via email or phone, and when a student-athlete can take official and unofficial visits.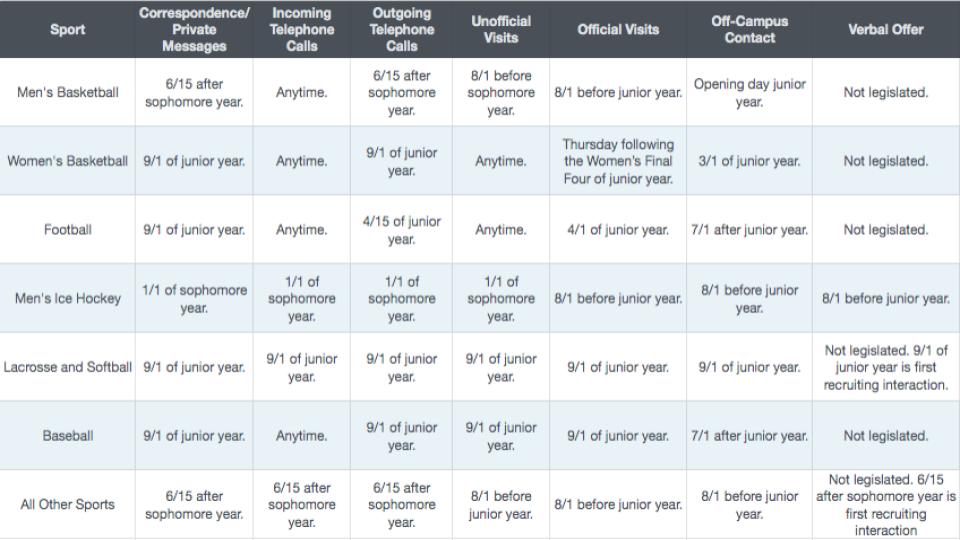 What to Expect on September 1st
On September 1st, college coaches at the Division I level will be able to engage in recruiting related conversations with prospective student-athletes going into their junior year of high school. This communication can include phone calls, emails, video chat software (Zoom, FaceTime, Skype, Etc.) and social media direct messaging. These conversations can be about where you stand on their list, what you have been doing in your recruiting process, and their recruiting timeline.
Coaches will also be able to set up official and unofficial visits. However keep in mind Division I is currently in a dead period through September 30th. During a dead period there is no in-person recruiting, this means no official and unofficial visits during this time.
Depending on the conference, coaches may also be able to offer you a spot in their 2022 recruiting class. If you are offered a spot on their roster, this would strictly be a verbal commitment at this time.
Below is a webinar that we hosted on Tuesday, August 25th going over September 1st in detail. Feel free to watch it below!
Want to stay up to date on all things recruiting? Follow us on Instagram, Twitter, and Facebook!
Mike Babich is one of the Insights Analyst at SportsRecruits. Mike has experience in collegiate athletics as a former football student-athlete at Mount Ida College, as well as a Graduate Assistant and Assistant Football Coach at Long Island University. He also served in the role of an Admissions Counselor for two years at Molloy College in Rockville Centre, New York. He has a passion for helping student-athletes better navigate and understand the recruiting process.