In "Player Retention," Part 1 of our Webinar Series "Untapped Revenue," SportsRecruits Co-Founder Matt Wheeler discussed how important player retention is to the health of a club sports organization.
In the Webinar, Matt was joined by Los Angeles Volleyball Academy (LAVA) Recruiting Director André Lennox to discuss the idea of player churn, and how player retention strategies focused on strengthening coaching and recruiting within the club can lead to positive results and mitigate the risk churn presents.
You can watch (an updated version) of the video below, and also read some of the interesting takeaways from the presentation.
Click here to download the slides from this presentation.

Webinar Topic Breakdown:
Club sports organizations and their business challenges
The importance of recurring revenue
Competing clubs example showing customer churn's effect on a club
Player retention
What families expect from clubs
Club focus and where it should be to meet family demands
Club best practices in coaching
Club best practices in recruiting
Attendee Q&A
Takeaway One: Player Churn is a Silent Killer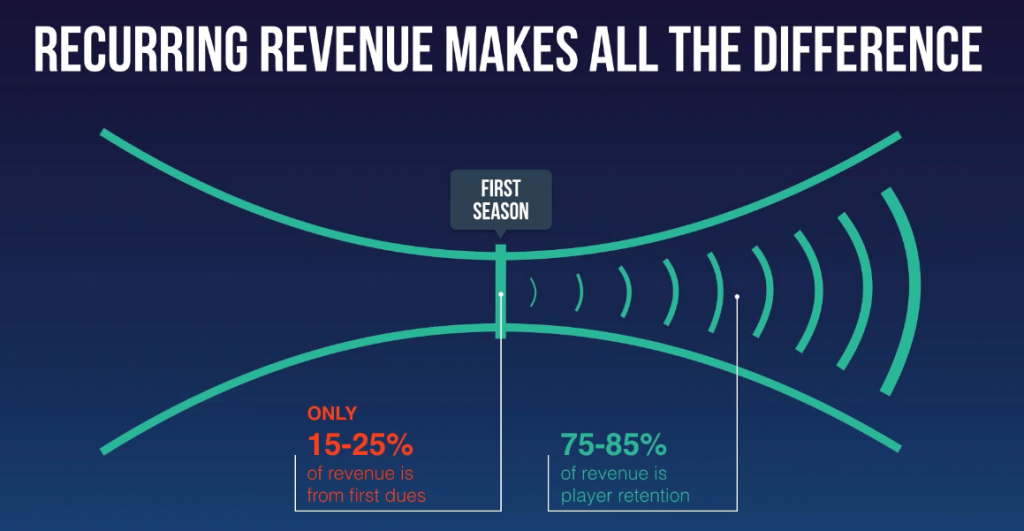 What It Means: Defined simply, player churn is the likelihood that a current player will leave your club. While this is a concept that many clubs battle, they may not realize it is an issue.
As in any business, acquiring a customer is far more difficult than keeping an existing one. As such, recurring revenue makes all the difference. In the club sports space, what does this mean?
Here is a simple example for one player in an organization: If club dues are $1,500, over the life of their cycle in the club from a younger player through high school, that family is worth more than $7,500 in recurring revenue!
From a business perspective, roughly 15-25% of revenue occurs at acquisition. This means that roughly 75-85% of the revenue is in player retention. While replacing a family is easy, you can't build upon that revenue as you could with the family you have lost. This is why only a small portion of revenue comes from the initial acquisition.
To help illustrate this point, here is an example of "Competing Clubs" – one club (Falling Stars) is experiencing slight customer churn, while the other (Rising Stars) has no losses.


Since the Falling Stars club is simply replacing their lost player with another, they are not "losing" any money year over year. However, as you can see, while it may not feel like revenue is not dipping, by year three, you are 63K worse off than your competitor not losing any players.
From the Presentation: "Your "growth" can still be solid; and you may not notice it because you are making the same amount of money on an annual basis. But churn is a silent killer, because you are leaving money on the table even losing one player per year." –SportsRecruits Co-Founder Matt Wheeler

Takeaway Two: Player Retention Is Key to Combating Churn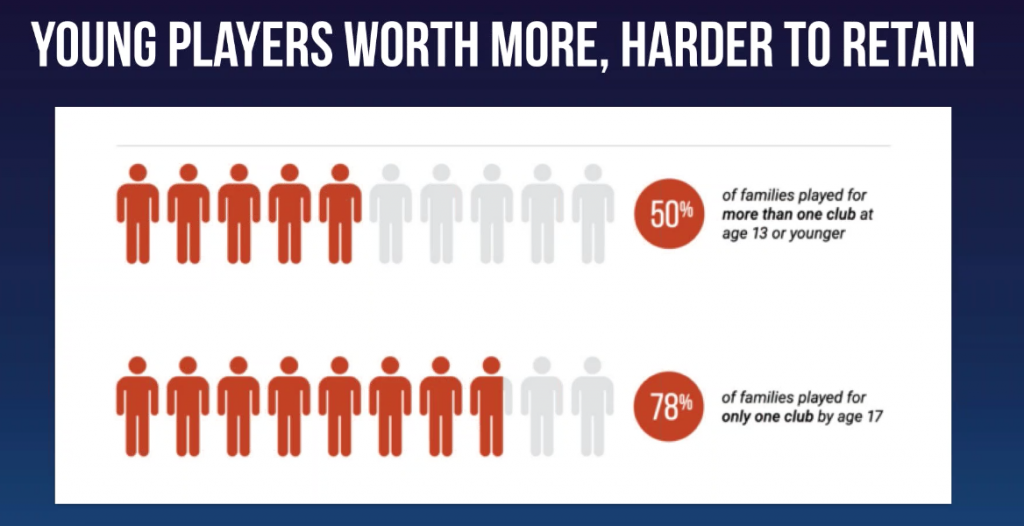 What It Means: According to a SportsRecruits Survey of Club Families, 50% of players at ages 13 or younger played for more than one club. By the age of 17, however, 78% played for only one club.
Obviously, this means that players will eventually be choosing one club. The challenge, then, is retaining the players from a young age so they choose to stay with their current organization.
This then begs the question: What can a club do to ensure their players are content to stay? We asked our club families what it was they valued most in a club. Their responses: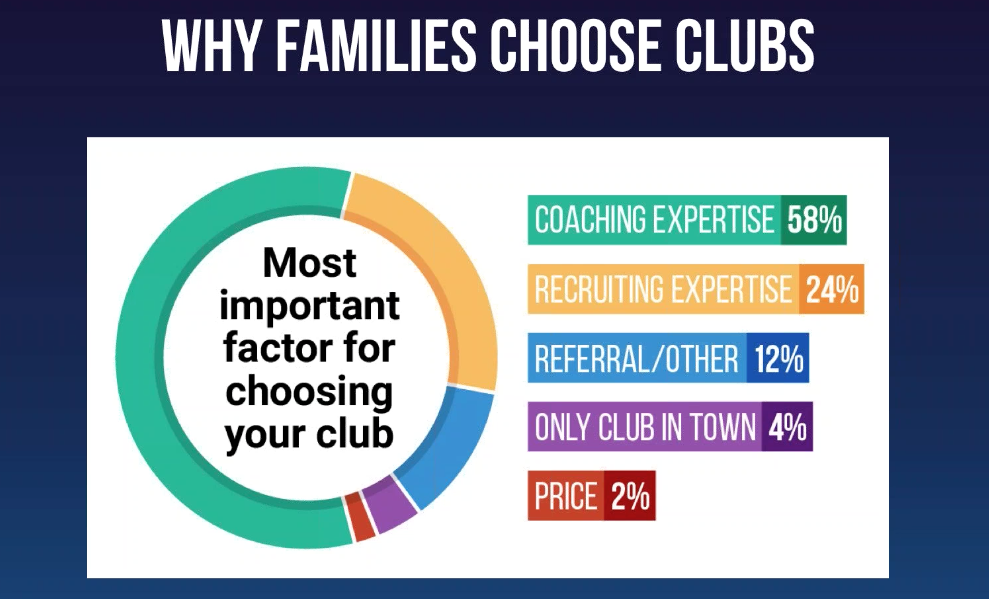 It is very obvious that club families are concerned primarily with the coaching and recruiting expertise of a club. Further, we have already established that keeping the younger players is vital to the retention of families and thus, reducing churn.
The solution, then, is to put a club-wide focus on coaching and recruiting expertise, while ensuring these priorities are clearly articulated to younger families.
From the Presentation: "I was very interested to see how high recruiting expertise was on this list. At our volleyball club, we thought that coaching was clearly number one, but would have thought that referral or price would be number two. We were surprised that recruiting expertise was as high. It really helped us focus and invest more in what the players were interested in on being recruited." – Los Angeles Volleyball Academy (LAVA) Recruiting Director André Lennox
"The key moving forward is to get this message out to the lower levels. That's where the churn is. So it's important to get the word out to the younger levels that if you stay with this club, you will get these recruiting and coaching benefits." – Los Angeles Volleyball Academy (LAVA) Recruiting Director André Lennox
Currently, the organization has about 20 teams – roughly 230 players – on SportsRecruits.

"Having a tool like SportsRecruits really allows me as the recruiting director to get an insight into those players, what they are doing, and to easily contact them and message them. We can refer them to college coaches by simply sending their profiles out. It helps us streamline the process from my end. It has also helped our players by having one profile they can email out to coaches. They can do research – building the list of favorite schools has been very informative. Having everything under one tool – not a lot of spreadsheets and things like that – being able to organize things into one place has been very helpful." – André Lennox, Recruiting Director, on why LAVA uses SportsRecruits
Takeaway Three: Player Retention Strategies – Coaching


What It Means:As you can see in the slide above, it is imperative to double-down on the efforts your club puts into improving its coaches. While this is a known quantity, too often the coaching improvements or systems cannot be effectively communicated.
Among the tips from the webinar: Improve your coaches via making good hires and investing in their training; Putting an emphasis on this training, and providing numerous resources for coaches; make your coaching accessible to players and families on-demand via things like online resources and one-on-one meetings.
From the presentation: "We announce to our families that we host coaching clinics for our own coaches at least three times a year; sometimes more. Coaching sessions last about three hours. We also have a coaches manual. We really try to stress to everybody that we are trying to do our best as a club to continue the growth of our coaches, and with these tools we will also be there in the recruiting process. So we really try to tie these together." – Los Angeles Volleyball Academy (LAVA) Recruiting Director André Lennox

Takeaway Four: Player Retention Strategies – Recruiting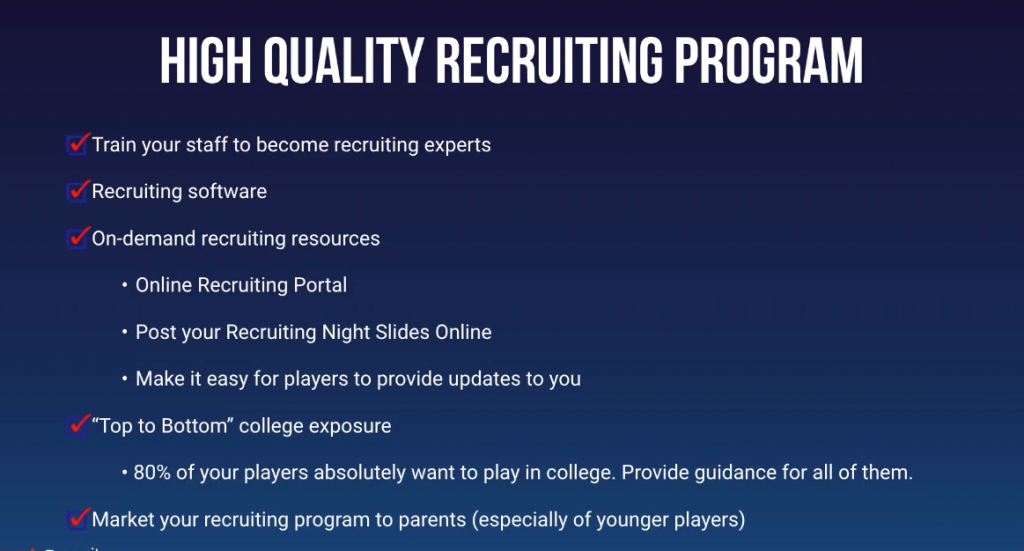 What It Means: As you can see in the slide above, it's vital to have a system in place to handle your recruiting. Only when that system is tangible can it be effectively communicated, especially to the younger families in your organization.
Among the tips noted include train staffers to be proficient in the recruiting process; having recruiting software; on-demand resources (making materials available online); top-to-bottom guidance (for the DI candidates to the college club candidates); market your recruiting program to younger audience.
From the Presentation: "The recruiting process is very complex. It's really overwhelming for new players and families. The more resources you can provide to educate them means the more comfortable and relaxed they feel. The younger you can educate, by the time college coaches are contacting there are in a much better place." – Los Angeles Volleyball Academy (LAVA) Recruiting Director André Lennox
"One of the most important things we try to get out to our players and families is that they need to own the recruiting process. It really is up to them. We want to provide them the tools to make it as easy and as streamlined as possible." – Los Angeles Volleyball Academy (LAVA) Recruiting Director André Lennox