Introduction
For the second consecutive year, SportsRecruits sent a survey to its members on club teams. The goal was to gain insight into the thought processes of these families as they relate to their club sports experience, as well as expand on some of the things that were learned in the previous year.
In all, 745 families responded to the survey. All responses were voluntary, and users were not required to answer each question. Below are some of the most illuminating findings, particularly as they relate to club owners and directors.
We broke each finding into a few parts.
First, you will see the question, as well as an info-graphic depicting the results.
Next, you see what we feel is the most important data point from that question.
Last, you will see our analysis of the data points.

Summary
Here are a few of the major themes you will see in the results and findings below:
Club Families primarily choose their clubs for their coaching and recruiting acumen.
Price is the least active concern of families, and further, reasonable price increases do not drive families from their clubs.
Younger student-athletes often play for multiple clubs, but will only be playing for one by the time they are in high school.
Loyalty is vital for clubs to build with families, especially at the younger levels.
Families want value above else, and as such, improvements to this end should supersede price raises and other concerns.
Want to see how our platform can work for your organization? Schedule a demo here.

SURVEY RESULTS
QUESTION #1: What is the single biggest reason you chose your current club?
TAKEAWAY DATA POINT
58.2% of respondents (430 of 739) selected coaching as the main reason they chose their club. The next highest choice was recruiting, which had 23.1% (171 of 739).

ANALYSIS
Our first survey showed very similar results, so this outcome is not surprising, but still telling: Families are choosing clubs mainly for their expertise in coaching and recruiting, while price is once again the least important factor among the provided choices.
What does this mean for clubs? Roughly 80% of families choose their clubs for coaching and/or recruiting, so clubs need to prioritize these two facets. As competition in the club space intensifies, clubs that can prove they can provide superior coaching and recruiting expertise will thrive.
Think your club already has these locked up? Think again. It is no longer simply enough to say an organization prioritizes these two areas covered. When families are considering your club, you should be able to tangibly provide quantitative evidence demonstrating excellence. Families need to know your club has a history of success, that your club will focus on their individual goals and that your club has the resources to get them where they want to go.
How can this be done? We have explored many ways, from following club best practices to ensuring your club is adding recruiting value.
What your club lacks in size, geography or financial resources can be made up via technology. Families who feel overlooked or under-served are the most likely to defect. Prevent this by supplementing your in-person efforts with simple tools to provide on-demand access to your club's most valuable services.

QUESTION #2: Do you want to play sports in college?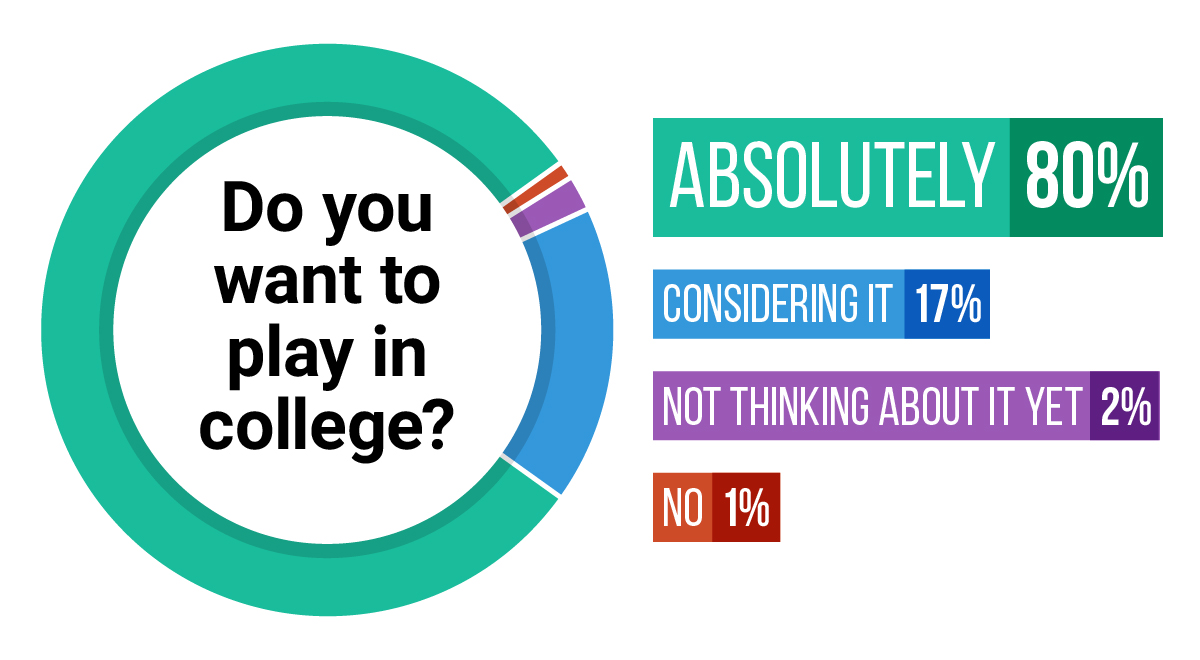 TAKEAWAY DATA POINT
85.7% of the respondents (96 of the 112) selected they "absolutely" wanted to play their sport in college.

ANALYSIS
While this question and answer may feel obvious — notably for those filling out a voluntary survey — it does provide a piece of data to what was more considering anecdotally true: A vast majority of student-athletes want to play at the next level.
Many clubs split their teams up by skill level, ranging from "recreational" to "elite."  Often, when it comes to recruiting, these clubs may (incorrectly) focus only on those playing on the A or B teams while largely ignoring C or D teams.
The common theory is that the student-athletes at the "lower" levels are either not good enough (which may be true at any level) or not interested in playing at the next level. The irony, of course, is that not only are a majority of players interested as we see here, but often the players at these levels need the most guidance and assistance.
These are the student-athletes that are likely not getting the looks from the "big schools" for one reason or another, and as such, the process may necessitate being more hands-on and proactive.
Ultimately, this means that clubs need to ensure they are providing an equal and similar experience for all of their student-athletes, regardless of which team they are playing on. While it is Utopian and likely unrealistic to suggest this is how it should be done anyway (in theory, this is true), these numbers suggest there is no legitimate reason to not to be doing this.
The old adage that many players simply are not interested in playing in college does not hold much gravity in today's system. For one, the time and financial commitment alone has likely weeded out many of those interested in a more recreational experience. Further, with technology at the ready, accomplishing the goal of providing a similar experience to all players has never been easier.
For an example of how this can be done, watch and read this recap of a recent SportsRecruits webinar, which highlights the ideal meeting between a family and a club. It ensures a uniform system with which student-athletes can be assisted while putting everyone — both club staff and the family — on the same page.

QUESTION #3: How likely are you to leave your club if dues were raised by the following amounts:
TAKEAWAY DATA POINT
Not until hypothetical dues were raised by $450 per yer did close to half (46%) of families begin saying they were likely to leave a club.

ANALYSIS
Related to the first topic covered above, in which club families selected price as their least determinant factor when choosing a club, we decided try and quantify better how families thought about club sports costs.
As we know from our look at Youth Sports Trends heading into 2016, the high cost of participation has come under much scrutiny. Families are beginning to wonder at what point they are receiving an equitable return on the investment of not only their money, but their time as well.
As this question helps illustrate, however, the ceiling on what families are willing to pay before moving to a different organization is fairly high – around $400 before a majority begins dissenting. This suggests that price is not so much the issue, but that value is the key.
What this means is that families may be willing to deal with minimal price increases provided they are seeing value in the areas they care most about, which, as we have seen, are coaching and recruiting.
Thus, a club organization should really be viewing cost as a function of value. Instead of looking at price as a zero-sum concept (if we raise prices, families will leave), it is more prudent to ensure value is being provided.
This, it appears, is a far better indication than price. As we see, concerns about raises in price are certainly relevant, but it seems as though it would take a substantial increase to render a value proposition obsolete.

QUESTION #4: How many club teams do you play for?
TAKEAWAY DATA POINT
50% of athletes under the age of 13 play for more than two clubs. However, 78% of players are only playing for one club team by the age of 17.

ANALYSIS
This question highlights the importance of building loyalty within your club organization. It is readily apparent that younger student-athletes play for multiple club teams, while their high-school aged counterparts play for only one.
One can logically assume that in between these two points, a family is choosing to settle with one club organization as they enter the important recruiting years (among a variety of other factors).
As we know from our exploration of customer churn, losing a family can have very negative effects on an organization from a business perspective. While it feels like simply replacing the family with another solves the problem, in reality, there is much being left on the table. That, mind you, is prior to the issue that youth sports participation is trending in a negative direction.
So, how does a club build loyalty with a family? As we touched on earlier in this paper, access is the best answer. Providing access to the value your organization is adding ensures they are getting what they need when they need it – mitigating the desire to move clubs.
Said another way: Utilizing technology and providing a family an experience where your organization is intertwined with their daily life means they may be less likely to move on from your organization. To borrow a phrase from the poker world, it ensures a family is "pot-committed" to your club.
While this is a capitalistic way to think about this issue, really, it should be a by-product of your organization doing everything in its power to best assist student-athletes and their families. Should this be occurring, a family will not even have to consider a new club, because the value being provided is better than starting all over again with another.

QUESTION #5: Does your club team use recruiting software, and if so, are you satisfied with your club?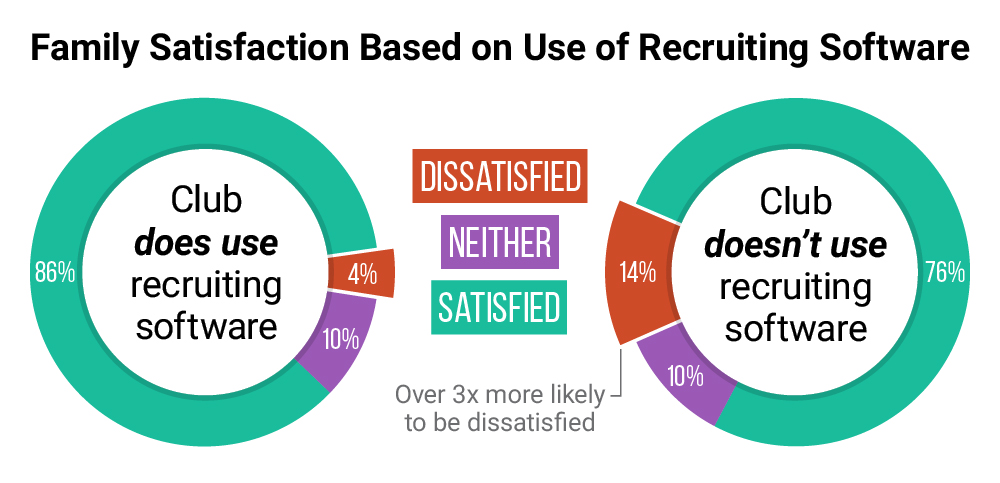 TAKEAWAY DATA POINT
83% of clubs are not using any recruiting software, while those that don't see dissatisfaction rates that are 3X higher.

ANALYSIS
To really drive home the point made in the previous question, we wanted to gauge just how many clubs are providing online recruiting resources for their families to determine if there was any correlation with satisfaction.
What we found was telling: 83% of clubs are not using any kind of recruiting software, and families are 3X more likely to be dissatisfied with the clubs that are not utilizing online programs.
This confirms what we have seen across the rest of the survey while also showing there is a correlation between satisfaction and moving resources online. As we have noted, loyalty is a big area clubs should focus, and satisfaction is certainly a key ingredient in this.
We have gone on about how technology needs to be adopted and implemented, so we will not rehash that argument again. However, one more notable factor from these answers is that the opportunity is immense to become a leader in the space.
With 83% of organizations not having any recruiting software, there exists quite a large gap in which to take a leap that can differentiate a club from the pack.
We know families are eventually going to choose one club; we know they value recruiting and coaching; we know that value trumps price; and we know that access leads to satisfaction and loyalty.
Adopting technology, and investing in every player's experience in your club, then, can be the domino that allows these to simply be by-products to what your club is already bringing your families.