Abstract
In the past decade, families have flocked to club sports in record numbers in pursuit of a brighter athletic future in college and beyond, a more elite level of competition, better coaching and more exposure.
Much has been written, documented and debated about the youth sports space over this time. The impetus for this conversation has been the growth of the industry, which in 2014 CNBC estimated, in travel alone, was $7 billion. The industry was in a hyper growth phase, and there appeared to be no end in sight.
However, the industry may be entering a new phase of development. Spending patterns are changing; sentiment around sports specialization is a hotly debated topic; the explosive growth of the previous development era may be coming to an end.
What has caused these changes? And what impact will they have on the future of club sports? This paper examines these pressing trends.
Introduction
The 2000s saw youth sports participation take an increasingly prominent role in the cultural zeitgeist. The increased relevance, buoyed by attention from the mainstream media, was initially fueled by a drastic in increase in participation.
In 2013, ESPN published an extensive piece which tried to estimate how big the youth sports space was. Their premise is one that is still true today, and reinforces a major point: it's hard to draw conclusions about the youth sports industry so unregulated and abstractly defined.
Take a look at the graph used to show just how high participation was, per 2011 statics: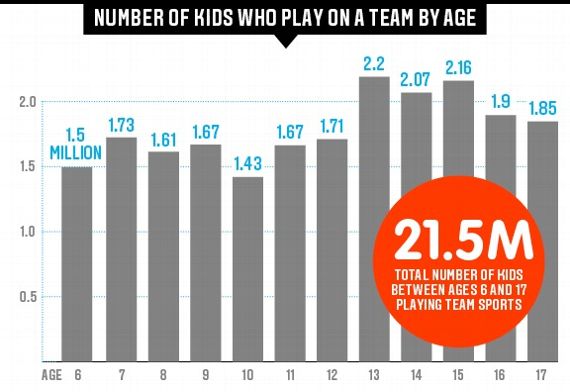 The authors state, "No one agency or organization monitors youth sports either as a central part of American childhood or as an industry…so we are left with a Wild West of local and regional organizations in dozens of sports and no better odds of getting pinpoint data than of counting all the tumbleweeds blowing across the land."
Therein lies the difficulty in grasping what is going on: There is no centralized regulatory or organizing body in the space that aggregates, monitors or reports on youth sports. Specific trends vary by sport, location, gender, age, region, gender – the list of fragmentation goes on and on.
However, we've identified three major trends that cut across the demographic spectrum, and they are poised to have a significant impact on the entire youth sports industry in the years ahead.
First, family spending on youth and club sports is slowing and may be reaching a "recoil point." Second, an increasing chorus of scientists are suggesting that sports specialization can be detrimental to a developing student-athlete. And finally, decreasing youth sports participation suggests that the growth era of youth sports is in serious jeopardy.
These themes have been dominating more and more of the national discourse on the topic. Public sentiment is capricious, and opinions can change in an instant.
Nevertheless, it is important to understand these factors. By exploring the arguments and literature, we hope to provide the reader a more thorough understanding of the space.
Each trend will be broken down into three sections: What to know, where we will explore in bullet-point form what the prevailing trend indicates; Arguments, where will dive into the pros and cons of the topic; and finally, What It Means, where we will add thoughts and explore the topic.
Trend 1: Cost-Benefit Skepticism
What to Know
Club sports are largely a market-driven industry, with clubs beginning and expanding in response to regional pockets of demand. This organic growth has inevitably resulted in a deregulated system, replete with inconsistent or absent regulation.
Buoyed by human interest pieces in mainstream media outlets, the financial costs of participation, especially on elite travel and club teams, are being called into question. This financial burden is furthered by the opportunity costs of time, travel and obligation.
Families may be reaching a recoil point.
Arguments
The argument here is a quite simple one at its core: Families are burdened by the costs of youth sports, not only financially but with their time as well. As such, this has become a popular arena for mainstream publications to interject.
The Media Sets Its Sights Utah State University researcher Travis Dorsch found that families spend as much as 10.5% of income on youth sports. Just how much is that? According to the US Bureau of Labor Statistics, the average American family spends less on food (10.1%) less on healthcare (6.9%), and less on their cars (9.9%).
This information was published in the NY Times, which ran a piece in January titled "The Rising Costs of Youth Sports, in Money and Emotion." It traces a few different examples and presents both sides of the equation: That on the one hand, it feels ridiculous to be spending all this money, while on the other it may be a means to an athletic scholarship or more well-rounded person.
A quick Google search can net you many similar examples from all over the country, from a Forbes piece discussing how families are crowdfunding their club sports costs; to a series in the Dallas Morning News discussing the tremendous toll youth sports is having on families, to a similar series in the Des Moines Register calling into question the ROI (return-on-investment) of youth sports in general.
While these pieces vary greatly in tone and subject matter, they do exemplify just how much coverage the youth sports space has received. The media can exert tremendous influence on public perception when it focuses on a topic, and parts of the media have youth sports squarely in their cross-hairs. Family attitudes are changing, and this coverage is a big reason why.
Fundamental Economic Factors
There are legitimate, fundamental economic factors influencing the youth sports industry. The slow economic growth of 2010s means a larger share of disposable income is going to essential expenses. Many families who lost their jobs during the Great Recession have been unable to find comparable employment or have left the workforce entirely. Structural changes to the labor force have led broadly to lower job stability and fewer employer-paid benefits. Parents who assumed that these economic hardships would be short-lived are just now waking up to a sobering new reality.
"As in any other sector, value sets price, so it clubs must identify and communicate its value proposition in the most meaningful and transparent way possible."
With college expenses on the horizon, many families are being forced to rethink their children's budgets. The factors combine to create a vacuum wherein families are taking a long look at the value brought by their club programs, and many times, the perception may be it is not in line with the costs.
What It Means
Stories about the cost of participation will only increase, and clubs need a strategy for addressing this shifting sentiment. Providing and demonstrating value should be of paramount importance. How does a club show a family the direct benefit of their investment in time, money, travel, and everything else that goes into club sports?
Recruiting is a good start, but a critical look needs to be taken at the value delivered up-and-down the organization. Make sure you're doing these five best practices for clubs.
As in any other sector, value sets price, so it clubs must identify and communicate its value proposition in the most meaningful and transparent way possible.
Trend 2: Sports Specialization: Under the Microscope
What to Know
Sports specialization can simply be defined as competing exclusively in one sport on a year-round basis.
Debate has increased about the potential harm of over-specialization on adolescent physical and mental development.
Many of these studies are incomplete or unscientific, relying on anecdote in the absence of hard data.
Arguments
As more families are spending more time shuttling their kids across the country to weekend sporting events, more parents are asking the question: is this safe?
Some researchers think they have the answer, and it's not good.
"It has never been more important that clubs ensure their programs are equipped with trainers and input from medical professionals to ensure they are meeting the challenge of player safety. The recent focus and conversation around the subject as only increased the scrutiny on the area."
Just last week, NBC NFL reporter Alex Flanagan devoted an entire blog post to the topic of detrimental physical effects of over-specializing on adolescent bodies. The post details the work of David Epstein, a NY Times best-selling author who penned the book The Sports Gene: Inside the Science of Extraordinary Athletic Performance.
The growing sentiment is that sports specialization might be harmful. The argument has sympathy from many college coaches who prefer multi-sport athletes, as seen in this post. Other studies suggest there are diminishing returns to specializing year-round, while still countless other studies (like here and here) suggest that early sports specialization can not only increase overuse injury risks, but can contribute to a lack of motivation.
While the literature tends to focus on the negative side to specialization, much of the science is still in its infancy. Attention on this topic is a recent phenomenon. It will take years, if not decades, to adequately understand the real effects that year-round specialization is causing. Of course, everyone knows that a certain amount of specialization is requisite for success.
What It Means for Clubs
It has never been more important that clubs ensure their programs are equipped with trainers and input from medical professionals to ensure they are meeting the challenge of player safety. The recent focus and conversation around the subject as only increased the scrutiny on the area.
"The elite clubs of the coming era will be experts in the field of sports training, nutrition, injury prevention. For the clubs who ignore the topic, the future might not be so bright."
Again, it is very difficult to draw conclusions on such a broad topic, but the compass seems to be pointing in a direction clubs may not want to travel. As such, it is imperative to seek out ways to ensure participation is handled in a manner consistent with the prevailing science.
As a club, you need to be prepared to address this question, as it will surely arise from parents reading about it in the media. Whatever your opinion, the broader issue of injury prevention is not going away. Parents and players want to believe that the effort and money they're putting in is making them better prepared to succeed, not setting them up for a devastating failure.
The elite clubs of the coming era will be experts in the field of sports training, nutrition, injury prevention. For the clubs who ignore the topic, the future might not be so bright.
Trend 3: Youth Sports Participation Numbers Are Falling
What to Know
In the past five years, youth sports participation has actually fallen.
Among 6- to 17-year olds, the average number of team sports played per participant has fallen by 5.9%.
Governing bodies are re-thinking the framework for addressing problems in their respective sports.
Arguments
Much of the literature in the space has held the notion that youth sports participation was exploding, on an unstoppable trajectory that would go on forever.
To borrow a phrase from College Gameday's Lee Corso: Not so fast, my friend.
Youth sports participation is actually down. Per studies like the 2015 SFIA U.S. Trends in Team Sports Report and Bill King's August 2015 piece in the Sports Business Journal, this trend is a focus of governing bodies.
A market correction may already be underway as families reach a tipping point when it comes to participation.
The arguments suggest the perceived negative aspects of youth sports – specialization, costs, travel, and more – have led to the decrease. Since we are working with hard data here, there really is no counter-argument: The numbers don't lie.
What it Means for Clubs
On a micro-level, player retention is vital and needs to be looked at with a very critical lens. It is not a given. Bringing in new families to replace former members is not only a poor business decision thanks to the concept of customer churn, but it is increasingly not a tenable option if the number of participants is not high enough.

On a macro-level, it is vital to ensure clubs are transparent, providing tangible value and have a willingness to embrace change as the club sports landscape changes, be that in the forms of technology, science or other discoveries.
Conclusion
The youth sports industry is entering a new phase. Families are taking a closer look at the cost-benefit analysis of their club programs, the studies of adolescent sports specialization is increasing, and participation has begun to fall.
For clubs, it is vital to ensure they are keeping an eye on these changes while simultaneously putting themselves in a position to adapt to space as it continues to evolve.