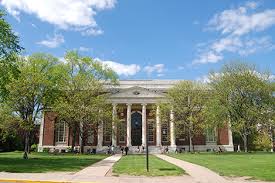 One of the most important steps in a student-athlete's college decision is visiting a school, meeting the people there and getting a feel for the campus.
There is no better way to know which school is the best fit than to visit the campus. You'll instantly see a snapshot of the school, the culture and more.
In a related instance, a big part of the recruiting process is taking an "Official" or "Unofficial" visit, where you meet the coaches and potential future teammates while also feeling out the school.
Here are some tips on "Official" and "Unofficial" visits, as well as some background information on each.
Before the tips, an overarching recommendation:
Take a Friday off from school (high schools usually exempt some college visit days) and spend the day and night with players on the team. Meeting with the coaches and getting a tour of the athletic facilities is a good start, but you want to spend time on campus with current players and the general student body.
5 Tips for Your Visit
1. Take a standard admissions tour of campus. Outside of the tour, this will enable you to see what other types of students are considering the school.
2. Go to classes with a player on the team, if possible. Are classes what you expected? Can you see yourself in only small classes? Are large lecture classes suitable?
3. See where players eat meals. You get a great idea of who they socialize with. Do they only eat with other athletes? Do they have friends outside the team?
4. Stay in underclassmen dorms if you can. Do most students live on campus? Can you see yourself living in a 2 person double or a 4 person suite? Are there coed dorms? Is campus housing close to the academic buildings?
5. Go out and see what a Friday night on campus is like. Are there lots of school-run activities? Do students go to campus parties? Do students go into a nearby town or city?
Doing all of these things will enable a player to see if they are a good academic, athletic and social fit.
Remember, you never want to go to a school just for sports. You want to choose a school that is a good fit for you academically and socially. Use athletics as a vehicle to get into the best school possible. Over the course of your life, your degree is going to shape a lot of the options you have after your playing days are long gone.
Overview: Unofficial Visits
Pertains to DI, DII and DIII
All visits before senior year are by definition unofficial.
Prospective student athletes pay all travel expenses associated with the visit.
Prospective student athletes can stay on campus with a member of the team or another student.
Prospective student athletes can meet with the college coach while on campus.
Coaches can help prospective athletes coordinate NCAA unofficial visits.
Digging Deeper
How does a coach know who is really interested? How does a player know who is really interested?
The answer to both questions is the unofficial visit. After a player receives a letter or email from a coach, it is up to the player to contact the coach and provide a highlight reel and a letter or email alerting the coach that he/she is interested in the program. Of note: A large majority of the letters sent to recruits on September 1st are simply to see who comes back with video and expressing interest.
If the coach considers the player a real prospect, they will go out of their way to invite the player on campus for an unofficial visit. If the player accepts the invitation, then the coach knows that the player is truly interested in their school.
If you have not heard from a number of programs you are interested in, you must put a highlight reel and your information in front of them ASAP before the coach runs out of weekends in the Fall to have you up for a visit.
If the coach has not invited you up for a visit, you must show him a highlight that displays your talent.
Overview: Official Visits
Pertains to DI and DII programs
Prospective student athletes can only make one official visit to any given college.
Prospective student athletes can only make official visits during their senior year of high school.
Prospective student athletes can make no more than 5 total official visits.
Official visits can only last 48 hours.
The college team can pay for your travel and lodging. This is the main distinction between an official and unofficial visit.
Prospective student athletes may receive free admission to the team's games, but can only sit in the general seating area.
Your host can be a player on the team, who receives a set amount of money to cover your expenses while you are on campus.
Prospective student athletes cannot use this allotment to buy souvenirs or other merchandise.
Digging Deeper
Official visits are becoming more of a formality with the acceleration of the recruiting process, as many prospects commit well before their senior year even begins.
At Division I programs and top-tier Division III programs, most players will have verbally committed before their senior year. The official visit has become an opportunity for a player to visit campus on the school's dime while meeting other recruits and current team members. For players who have not verbally committed, we suggest taking all 5 of your official visits.