On September 1st, college coaches at the Division I level will be able to engage in recruiting-related conversations with prospective student-athletes going into their junior year of high school in many different sports. This communication can include phone calls, emails, video chat software (Zoom, FaceTime, Skype, etc.), and social media direct messaging. These conversations can be about where you stand on their list, what you have been doing in your recruiting process, and their recruiting timeline.
Register for our upcoming webinar about the importance of September 1st here!
What Division I Sports are Affected by September 1st?
For the NCAA Division I, September 1st going into your Junior year is the allowable date for college coaches to initiate or engage in recruiting-related discussions. The sports affected by September 1st are listed below:
Baseball
Softball
Women's Basketball
Men's Lacrosse
Women's Lacrosse
Football
The below graphic shows important dates across all NCAA Division I sports. This includes when college coaches can contact a prospective student-athlete via email or phone, and when a student-athlete can take official and unofficial visits.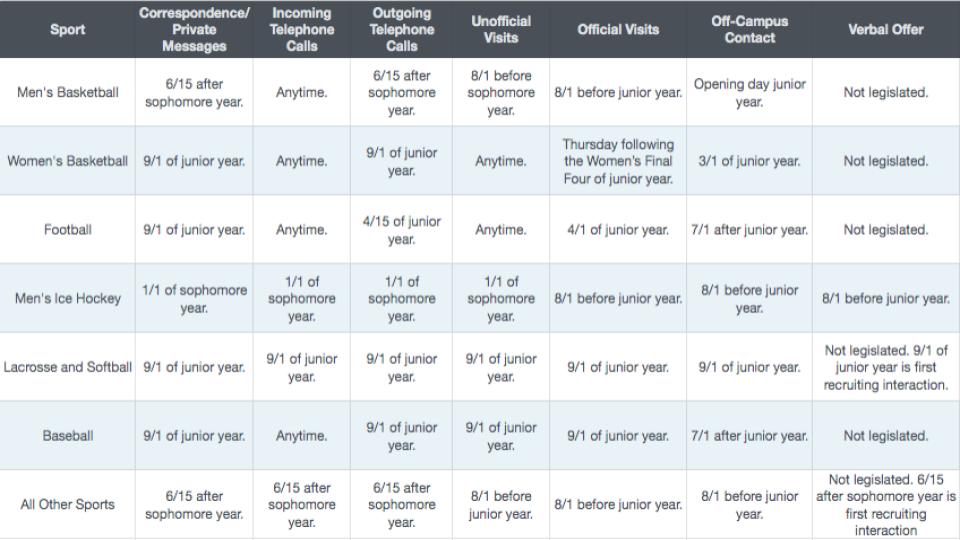 What Should I be Doing Before September 1st?
Even though NCAA Division I coaches are limited in what they can say to you prior to September 1st, there are some steps that are extremely necessary to take before we get to that date. Here are some tips on what you should be doing in the weeks leading up to September 1st!
Educate yourself and re-evaluate the programs on your list– Take the time to finalize, and research what schools you plan on contacting before September 1st arrives. The more organized you are, the less stressful this time will be.
Show your list of schools to your athletic advocates to see if they are realistic– The best way to find out if a school is a good fit for your athletically is to ask the people who see you compete each and every day. An athletic advocate can be your high school coach, your club coach, a trainer, or anyone who has seen you progress into the athlete that you are today.
Message the DI colleges on your list- Sending college coaches an update on how your summer has been going so far is crucial prior to September 1st. Make sure to restate your interest in their program, and offer any updates that you have not provided them since the last time that you reached out.
Send your most updated video– When reaching out to these schools, make sure they have the most up-to-date footage that you have of yourself competing from this summer. This can indluce an highlight reel, skills video, or raw footage.
Provide your most up-to-date academic information, and your upcoming course schedule- This is especially important for the acdemically competitive schools you are interested in. High-ranking programs look for student-athletes who take challenging courses, such as AP or college-level courses.
Try to attend a prospect camp, or ID clinic at one of your top schools– A lot of programs like to have a chance to work one on one with prospective athletes before taking the next step with them in the recruiting process. Head to the program's athletic website to find out what camps or prospect days the coaching staff may be hosting in the next few months.
Look for showcases and tournaments where multiple schools on your list will be in attendance- We recommend going to events where mutliple coaching staffs are attending, to maximize the overall amount of exposure you may receive. When researching showcases, it is important to attend those that have several schools that you are interested in.
What to Expect on September 1st
Depending on the conference, coaches may start to engage with you and let you know if they are interested or they may even offer you a spot in their 2023 recruiting class. Receiving an offer this early is typically reserved for the top-rated recruits. If you are offered a spot on their roster, this would strictly be a verbal commitment at this time.
However, do not panic if you do not receive immediate interest from an NCAA Division I program! Due to the lengthy recruiting dead period that limited in-person recruiting, it is possible that they are taking their time while evaluating the 2023 class.
Make sure that you register for our upcoming webinar about the importance of September 1st here!
Want to stay up to date on all things recruiting? Follow us on Instagram, Twitter, and Facebook!
Mike Babich is one of the Insights Analyst at SportsRecruits. Mike has experience in collegiate athletics as a former football student-athlete at Mount Ida College, as well as a Graduate Assistant and Assistant Football Coach at Long Island University. He also served in the role of an Admissions Counselor for two years at Molloy College in Rockville Centre, New York. He has a passion for helping student-athletes better navigate and understand the recruiting process.