Back in March, the NCAA Division I Committee made an announcement that all Division I sports will return to their regular recruiting calendars beginning on June 1st. This will be the first time that Division I coaches will be able to watch student-athletes compete in person in over a year!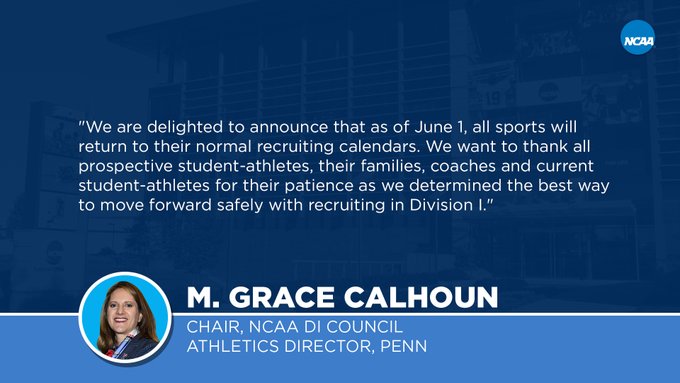 The most important thing you can do in preparation for the dead period ending is to organize your summer schedule as best you can. Knowing what clinics, tournaments, and camps you are attending will make it much easier to figure out what coaches you should be contacting prior to them seeing you compete live.
Here are some other tips to consider while getting ready for a very exciting summer event circuit!
Check out our webinar breaking down recruiting events HERE!
How to Prepare for the End of the Dead Period
Continue to stay safe- It is totally understandable if you are gearing up for a lot of travel this summer due to this announcement. Just remember to continue to follow all guidelines laid out by the World Health Organization.
Get in front of college coaches -If you are a student-athlete interested in pursuing NCAA Division I Athletics, this announcement officially allows you to have in-person meetings with college coaches. It also means that Division I programs will be allowed to host their own camps or clinics this summer, and are able to attend other recruiting events, such as showcases and tournaments. It will be crucial to check for any updates from your target list of schools to see what events they are attending or hosting so you have an opportunity to play in front of them live. Keep in mind, it is important to be messaging college coaches your summer event schedule, and specific schedules for each event you are attending. College coaches are attending recruiting events with a pre-determined list of student-athletes who have reached out, expressed interest, and let them know where they will be this summer. Make sure to get on that list!
Review your target list of schools- This is a good time to reassess your list of schools. Try to have a conversation about your target list with your athletic advocates (i.e. your current coaches, trainers, etc.) and take a little time to do the research on the schools you are interested in. Division I programs will be as competitive as ever, so having a realistic outlook on what schools are a good athletics fit for you will be crucial.
Continue to try to schedule phone calls- Division I College coaches will be as busy as ever in the upcoming months. It will be important to take the time to reach out to coaches not only by email but also by phone call. If you are a 2021, or 2022, who is at the end of your recruiting process, it will be crucial for you to reach out to coaches over the phone. On this call, you can hear where they are still looking for your position, or if you should focus your time on other programs.
Make updated video available- Hopefully, you have had an opportunity over the last few months to compile footage of yourself competing, working out, or working on specific skills. It is important to have the most up-to-date video of yourself on your profile, for college coaches to properly evaluate you.
How can I Stay up to Date on Important Announcements?
Follow SportsRecruits on Instagram, Twitter, and Facebook where we will be posting important recruiting updates as information changes. You can also follow the Inside the NCAA Twitter channel, the NJCAA Twitter, and the NAIA COVID Updates page where they have been posting updates in real-time. Lastly, check out the NCAA website for additional updates and resources.
How Do I Access My SportsRecruits Profile?
If you already have an account with us you can log in here.
If you are interested in signing up for SportsRecruits for free, click here!
Want to stay up to date on all things recruiting? Follow us on Instagram, Twitter, and Facebook!