Matt Wheeler co-founded SportsRecruits in 2008, and has been a driving force behind the company's success. As Co-CEO, Matt oversees all aspects of Technology Development and Customer Support. Matt takes great pride in leveraging his experience to provide real value to athletes and their families.

As the Co-Founder and CEO of SportsRecruits, I try and make sure we as a company take time each month to reflect on the milestones of the previous month.
Below, you will find some of the new clubs that integrated their organizations with SportsRecruits technology in July. Each club is now working with their dedicated Customer Success Manager to onboard their players, parents and staff. You can also see some of the clubs who completed a renewal with us in July.
Last but not least, SportsRecruits has a new home in Downtown Brooklyn. We built this place from the ground up and everyone is loving it!
Top Clubs, Top Recruiting Software, Top Talent
30% of athletes plan to try out for a different club each year. With so many options available to athletes, clubs can no longer afford to fall behind. Successful sports club organizations know that to both attract and retain the best talent, a strong recruiting program is a must. Sports recruiting software allows club staff to supercharge their recruiting efforts. Clubs trying to manually manage hundreds of athletes simply cannot compete.
These clubs are staying competitive with SportsRecruits software.
New Clubs (July)
We are excited to integrate our technology with each and every one of these outstanding organizations.
BSC Oregon | Soccer • Oregon • 10 Teams
Carolina Juniors | Volleyball • North Carolina • 10 Teams
Iowa Blitz | Softball • Iowa • 7 Teams
St. Louis Bandits | Baseball • Missouri • 6 Teams
Colorado Khaos Baseball | Baseball • Colorado • 5 Teams
NRG Volleyball | Volleyball • Texas • 5 Teams
Vision Volleyball Club | Volleyball • Indiana • 5 Teams
Diamond Baseball Academy | Baseball • Pennsylvania • 4 Teams
EVOLUTION Elite New England | Basketball • Massachusetts • 4 Teams
X-Treme Lax Factory | Lacrosse • New Jersey • 3 Teams
Top Side Snipers | Lacrosse • New York • 2 Teams
Cadets Baseball Academy | Baseball • New York
Baseball U | Baseball • Pennsylvania • 2 Teams
Fielder's Choice Baseball | Baseball • New Jersey • 2 Teams
New Jersey Rising Rebels | Baseball • New Jersey • 2 Teams
Chicago Fusion | Baseball • Illinois • 2 Teams
Diamond Runner Softball | Softball • California • 1 Team
Boston Prospects | Baseball • Massachusetts • 1 Team
Illinois Crush | Baseball • Illinois • 1 Team
Detroit Metro Stars | Baseball • Michigan • 1 Team
YMCA of the Triangle Area Swim Team | Swimming • North Carolina • 30 Athletes
SNOW Swimming | Swimming • Virginia • 10 Athletes
Club Highlights
Clubs are enjoying the competitive leg up they get when they integrate their organizations with SportsRecruits recruiting software. Here are a few ways SportsRecruits will impact these clubs.
1. Empower Student-Athletes to Take Control
BSC Oregon Soccer Club is a Development Academy club that is making its way to the top of the club soccer scene in the Pacific Northwest. To what do they owe their success?
BSC leader Ryan Youngblood understands that evolution is necessary for a club to grow. Youngblood and his staff are forward thinkers that want the best for their business and, more importantly, for all ten of their teams. In order to provide the best value for families, BSC must take advantage of the best tools available. Enter SportsRecruits.
SportsRecruits offers BSC athletes the best-in-class platform to directly communicate with the college coaches of their choosing. In this way, SportsRecruits empowers BSC athletes to take control of their futures.
2. Level the Playing Field
Club Director Savannah Linduff and Recruiting Coordinator Zoe Bell head an experienced staff at Carolina Juniors Volleyball in Charlotte, North Carolina. With ten teams, it's important to ensure every athlete has the same access to tools for success.
SportsRecruits provides Carolina Juniors a long-term solution for efficient and effective college placement for their athletes. SportsRecruits gives every athlete equal opportunity to put their game in front of any college coach in the nation with the click of a button.
3. Arm Club Staff With Tools for Success
As clubs grow, it becomes increasingly more difficult to preserve the quality of guidance that athletes receive in their recruiting process. With SportsRecruits, Carolina Juniors staff have a real-time view of every action athletes take on the platform. This allows them to easily and fairly oversee the recruiting process for all of their athletes.
Renewing Clubs (July)
Seeing SportsRecruits in action is believing. These clubs have felt the transformative impact that SportsRecruits has had on their organizations. They will be renewing their integrations for the second, third, and fourth consecutive years. They will continue to empower their student-athletes to pursue their dreams. Having a dedicated person at SportsRecruits managing your account ensures success.
Click on the club names to see these club storefronts in action.
Our New Home
Chris Meade and I started SportsRecruits on a ping pong table in my parents' basement. This month, we moved into a 7,000 square foot HQ in downtown Brooklyn.
Empowering student-athletes to pursue their dreams built this office. We started with that mission and we continue to march towards that goal.
If you would like to learn more about the people behind SportsRecruits, click here.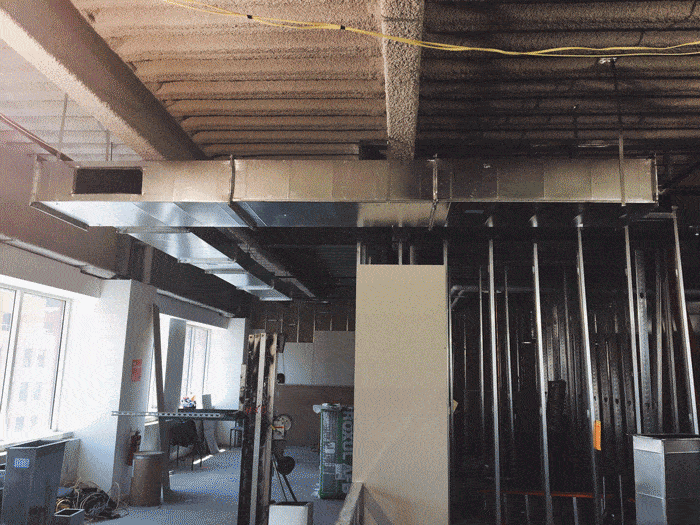 Want to take SportsRecruits for a spin?