My Vision
As a prospective student, one of my first Fordham football meetings was set in Keating Hall. The exterior of Keating Hall looks like Hogwarts. The interior did, too. The meeting felt significant from the start. The majority of the coaching staff was present, along with the rest of the recruits. All the high school prospects were seated together, buzzing. We fell silent as Defensive Backs Coach Tim Cary started to speak. I'll never forget the feeling his words inspired.
Coach Cary looked directly at me as he said, "We are going to build something here that will be a memory of yours for the rest of your life."
My mom nudged me to get my attention, but she didn't get it. The strength of his conviction triggered a feeling I had yet to experience in my athletic career. I was being inducted into something grand and greater than myself. The opportunity to connect with, to understand, and to believe in a coach like that doesn't come around very often.
It didn't last.
My First Lesson
I got to Fordham my freshman year daydreaming about the days of Vince Lombardi, when the Rams were a powerhouse. We were going to bring the glory back to the program.
We battled blood, sweat, tears, cramps, and injuries, but we sucked. Every week began with a feeling that we were zoning in on Coach Cary's vision of Fordham Football, great again. But every week ended the same. My team and I were disillusioned. We finished my freshman season losing eleven of twelve games. We were the worst team in the country. Our entire coaching staff, Coach Cary included, was fired.
I had worked my whole life to get here and I had finally arrived. I had achieved the dream of getting to play Division I ball in college. When I heard Coach Cary speak that day in Keating Hall, I connected with him. He articulated the vision that drove me to work as hard as I did. I believed in him. I really believed in myself and the notion that I would be successful. I was ready to build something that would have made my dad proud. And I failed. It felt as if my dream had been decimated, as though my entire belief in myself had been misguided. This was the wrong attitude, but after all I went through to get to this point, I couldn't face the defeat. I needed to transfer.
My Inspiration
Let me show you what brought me to Fordham in the first place. For that, I have to take you back to the beginning. My story began with my dad.
My dad was iconic. Not only to me – the world took note. He was a broadcaster; his voice presided over the sports world. He worked for George Michael's Sports Machine during the early nineties, which was ESPN before ESPN became what it is today. Dad did play by play for the Chicago Fire, the MLS team, and for the Chicago Bears, the NFL Team. He eventually became head sports anchor for NBC 5 in Chicago. He never stopped. His passion was resounding. He loved sports. He lived sports.
I mean it. He named me "Jordan" after the G.O.A.T., Chicago Bulls shooting guard, Michael Jordan. Even before I was born, I was supposed to be great. It ran in my family. Even my mom was a Division I shortstop for UMass back in the day. Settling wasn't an option. I wanted to make my parents proud, especially my dad. So, I took up every sport, from flag football, to baseball, to basketball, to lacrosse in attempt to do that.
My dad never lived to see me play competitively.
My Low
On October 30th, 2002, my mom sat my sister and I down in our living room. She had tears in her eyes. Dad had a heart attack. He didn't make it.
My eleven year old sister was hysterical. I sat on the edge of the couch with my head in my hands, immobile and silent. I didn't know what to say or do. I didn't know what to feel. I was nine years old.
All of a sudden, a rage I cannot describe rushed through my body. I sprinted up the stairs to my room. I slammed the door, then barricaded it so that no one could get in. My emotions ricocheted to the brink of losing my mind. Violent rage turned to palpable sadness. Helplessness followed, until I just felt lost. I destroyed my room: holes in the wall where I punched it; a baseball bat to my desk left it in pieces. I tore through my closet, sparing nothing until, at last, I found it:
The Baltimore Orioles jersey I wore to a game with my dad. Its materiality mocked me: pathetic and weak, this stretch of fabric outlived my rock. The impulse to destroy left me. All I could do was stare at that jersey and wish I was enjoying the game again with my dad.
My Opportunity
The uncontrollable rage that seized me the day that my dad died pervaded my life. I felt wronged. Why my dad? Why my family? Why me? Anger returned at any mention of my dad. I had no healthy outlet for the anger, so it emerged as aggression and hostility. Playing basketball and lacrosse helped keep me out of trouble, but it wasn't enough. These were the hardest years of my life.
They say time heals all wounds. I'm not so sure. I spent nine years in an aggravated state of mourning. Time didn't heal anything. Sports did.
The tide changed when I decided to try out for the high school football team my senior year. The turning point happened during my first high school game. I'll never forget the first hit I put on the opposing team's receiver.
The kid caught a crossing route, unaware that we were playing a cover two zone, and I was waiting for him. I demolished him. This may sound a little psychotic – for a second, it scared me – but releasing that pent up anger felt unbelievably good. I had liked football, but at that moment, I fell in love with it.
I found my outlet. I found my power. The anger that burdened the greater part of my young life became useful to me. Releasing that which internally destroyed me – created me. Whenever I felt anger rise, I expelled it on the field. This caught the attention of college coaches; they interpreted the aggression as me playing with a chip on my shoulder. I guess I was. Football provided me the opportunity to live up to the vision my dad had for me. When Fordham offered me a full football scholarship, I figured that going to a prestigious school such as Fordham and playing football at a high level would help me do that.
My Choice
Freshman year was coming to a close. My internal debate of the question – whether or not I should transfer – ended one day at practice. I got an unusual amount of playing time with the starters. Prior to this, I had a hunch that the starter position would be up for grabs. This practice confirmed it. I loved playing. I lived playing. The promise of increased playing time rekindled the fighter spirit in me.
I was nine when my dad died, which left gaps in my knowledge of his professional career, but I do know this: My dad never quit. He never quit at anything. He kept going, through thick and thin. That was the secret to his success.
Inspiration was what I needed to regain perspective. I recognized that my teammates were going through the same low I was. We bonded through the struggle. Transferring was not an option. I couldn't quit now. We still had a job to do. We were still building something together.
Our Memory
Sophomore year was the start of a new era. We had a new coaching staff, with Coach Joe Moorhead at the helm. Joe Moorhead was formerly the Quarterbacks Coach at the University of Connecticut. We knew his strategy was instrumental in their winning streak. We recovered an optimism we had not felt since our first college semester. Coach Moorhead shared Coach Cary's vision, but this time was different. He figured out how to make sure we executed it. For the first time in a long time, Coach Cary's dormant message came back to me:
"We are going to build something here that will be a memory of yours for the rest of your life."
His words became more inspirational the better our team got. They helped our winning momentum. My junior year, we started 11 and 3. The Rams hadn't won a championship in seven years. My freshman year, it felt like the dry spell would continue forever. But with one game left, the race for the Patriot League title was down to two teams, us versus Bucknell.

***
We're up 23 to 21 against the Bisons. There are two minutes left in the game when they drive down the field. At the 27 yard line, they call a timeout with three seconds left in the game. We know what's going to happen. They're going to attempt to kick a field goal – which is worth three points – and win the game by one point.
Little did they know, we were ready.
The week prior, the Fordham football team had an outing in which the focus was shifted from football to team-bonding. Rather than practice football, we played basketball. The diversion culminated in a dunking contest between one of our tight ends, Phazon Odom (now a Pittsburgh Steeler), linebacker Jake Rodriguez, receiver Lorenzo Smith, and myself. I won. This inspired my coaches, so the following practice, we came up with a new field goal block scheme. I was to start about three yards back and time my jump so that I was at the apex as the ball crossed the line of scrimmage. Kind of like taking a two to three step gather in a basketball game.
I don't think I've ever jumped higher in my life…
The ball hits my elbow and I know the game is over. We won the Patriot League Championship on a blocked field goal as time expired.*
No sooner did I hit the ground than I removed my helmet, threw it 20 yards behind me, and ran down the Bucknell sidelines, yelling, "You don't want it, you don't want it, get out of my house!" My entire team joined me. All the guys that were on the bench spilled onto the field to celebrate.
After every win at Fordham, we have a tradition where we ring the victory bell outside the Jack Coffey Field. The tradition holds that seniors get to ring the bell first; they earned that win, they paid their dues. I got to ring that bell first.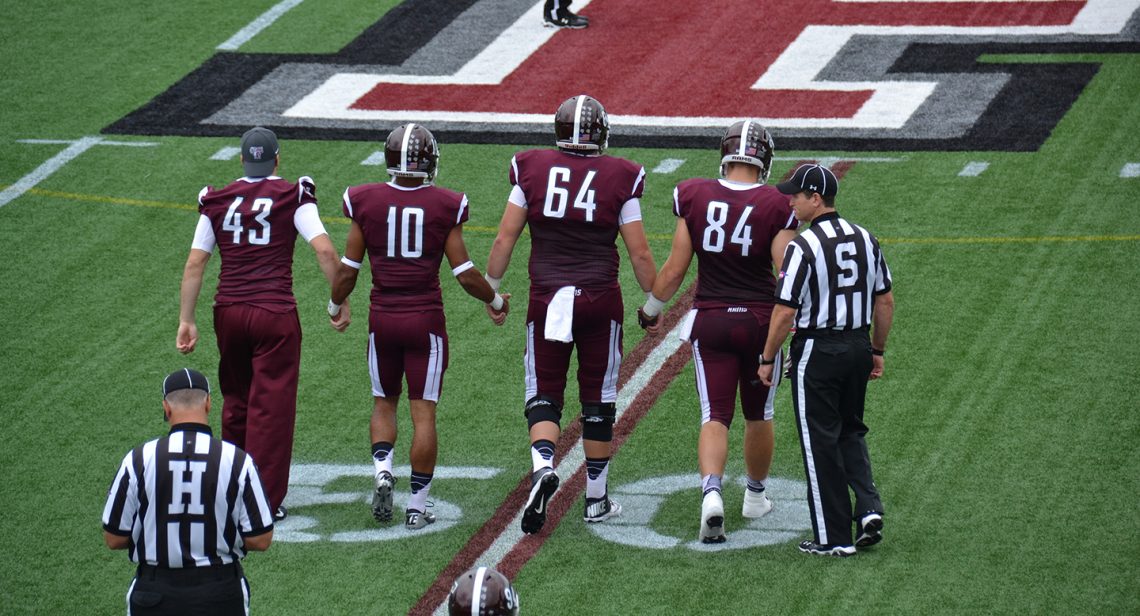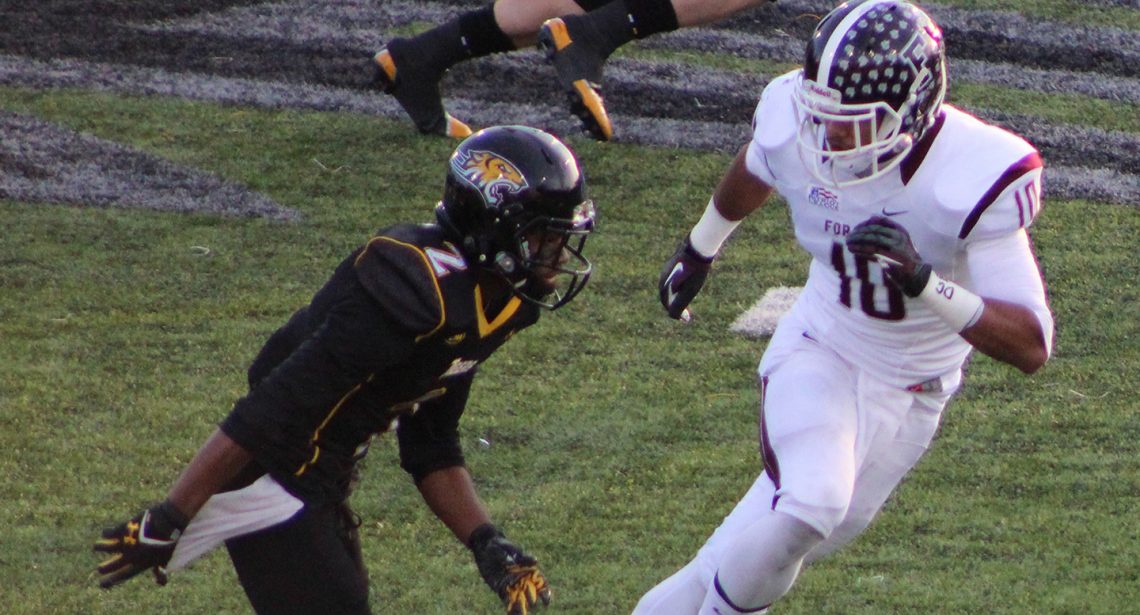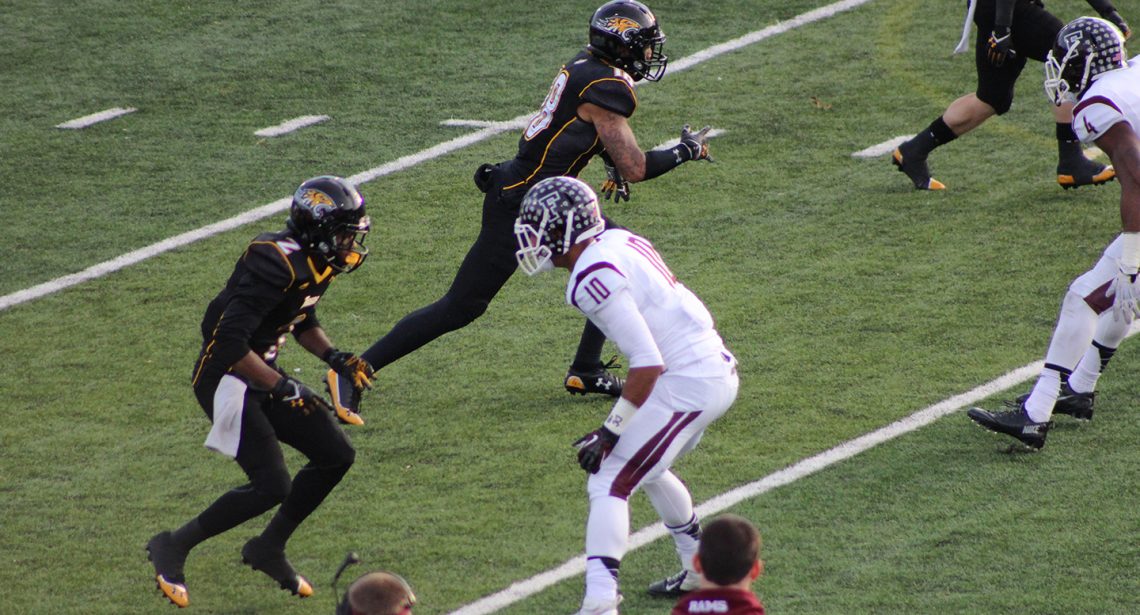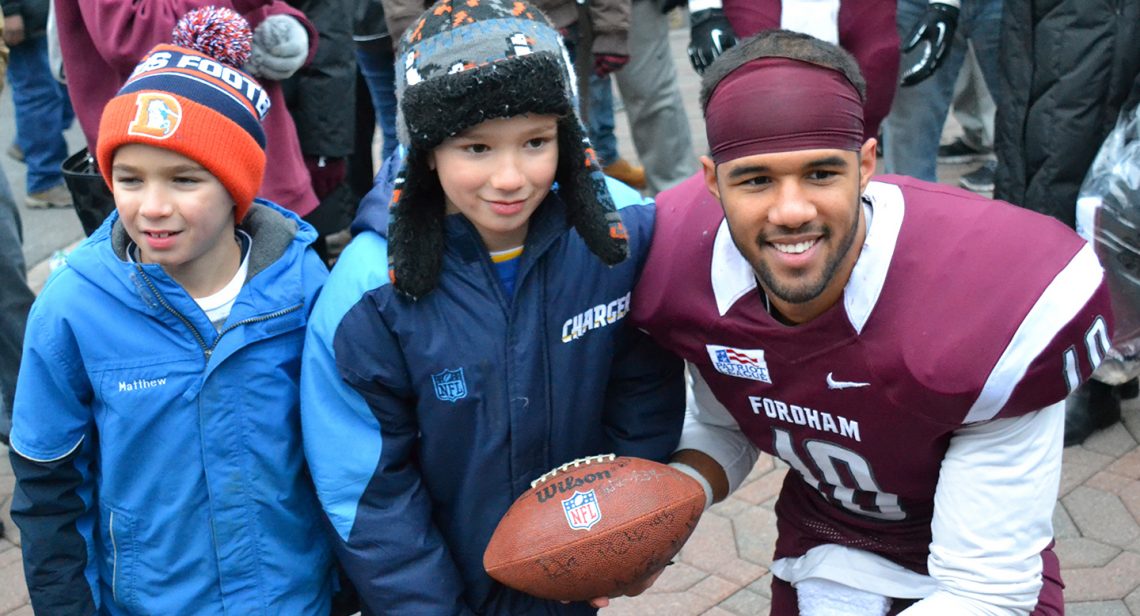 Our Triumph
The emotional rollercoaster we underwent to get there made the victory all the sweeter. We went from going 1 and 11 in embarrassing fashion to imposing our dominance as champions two seasons in a row (we beat Bucknell again during my senior season). It took losing everything to incite the change that powered us to win. Believing in the vision made it real, just as Coach Cary prescribed. The impact that he set forth as an expectation for my class that day in Keating Hall manifested in the years to follow. Our program is light years away from where it was when I arrived as a freshman, and that's partially due to my efforts and the efforts of the rest of my graduating class. We built a new tradition around Fordham football, which is a memory I'll have for the rest of my life.
Believing in a vision and sticking with it will carry you farther than you ever thought you could go. If I had quit freshman year, I never would have seen my program rise from the ashes. If I hadn't kept going, I would have never gotten to NFL rookie minicamp with the Baltimore Ravens after college, or experienced any of the other amazing things the future had in store. When I first got to Fordham, I had it all wrong. I thought that in order to make my parents proud, I had to achieve greatness. In order to honor my dad, I had to win. Now, I know that persevering when things weren't easy would have made him proudest of all.
*Fordham was the first school in the Patriot League to offer full athletic scholarships. The other Patriot League schools didn't take well to this breach of the status quo, which resulted in their collective decision to place Fordham Football on a three year probation for winning the Patriot League Championship. Despite the fact that we had the best record that year, this probation prevented us from winning it on paper (though in our minds we did). The probation lifted my senior year, when we won it outright.