Every year, we conduct a "Club Family Survey." The survey helps us understand families' attitudes for their clubs and for youth sports. We will publish the latest survey soon. In the meantime, I wanted to share a sliver of our findings, because we noticed something particularly intriguing.
But first, a bit of backstory. We know that clubs that use SportsRecruits have higher family satisfaction ratings than competitors. We've also observed that clubs that use SportsRecruits are growing faster than the club sports industry average.
Of course, we're thrilled that our platform helps clubs thrive in a competitive industry. But we want to know why this is the case.
In other words, we wanted to know: "What are the specific activities that result in the largest increase in club family satisfaction?"

The Questions
We asked participants to rank how strongly they agreed with 6 statements, on a scale from 1 (completely disagree) to 5 (completely agree).
For illustrative purposes, my supermarket could ask me to rank the following statement: "I will continue shopping at my supermarket if they raise the price of a carton of eggs to $50." I would definitely find another store if they did that, so I'd choose "1 – Completely Disagree." If JetBlue asked me to rank the statement "I am more likely to fly JetBlue if they offer free alcohol from wheels up to wheels down," I'd choose "4 – Strongly Agree."
I'd rank "I believe Donald Trump's policies on…" never mind, you get it.

The #1 Factor Influencing Player Retention
According to the survey, families are most likely to stay with clubs that create recruiting competitions.
By "recruiting competitions," we mean creating games to encourage players to reach important recruiting milestones. We call this "gamifying" the recruiting process, because it turns a long, stressful process into one with key milestones in a fun environment.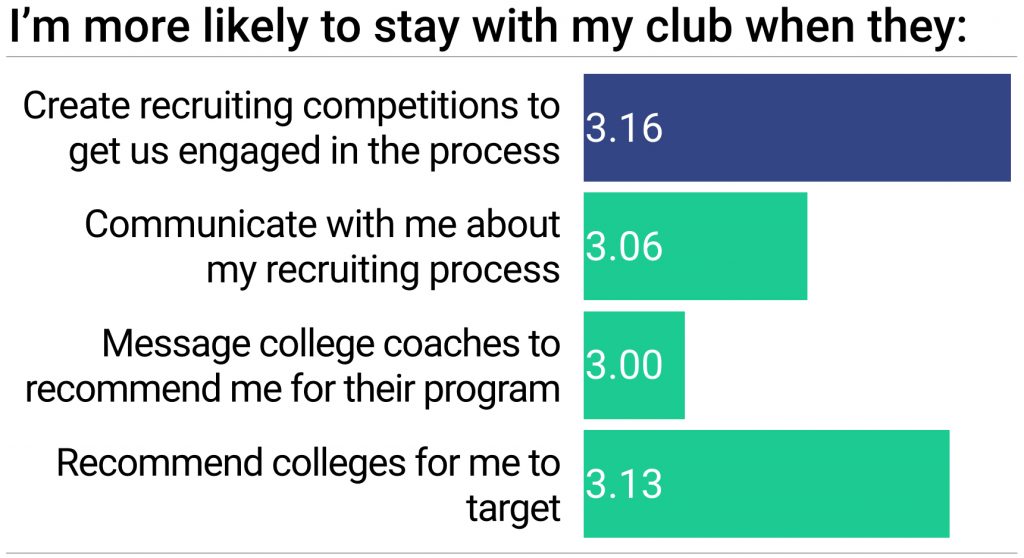 One example of gamification, which André Lennox implemented at LA Volleyball Academy, is offering a pizza party to the club team that messages the most college coaches in a given period of time.
The second most effective tactic to boost club loyalty is to recommend schools for their players. We call this "Tagging Schools" on our platform, but it applies whether your club uses our platform now or doesn't use it (yet 😊).
Rounding out the list, we have #3) communicating with athletes about their recruiting processes via email and #4) messaging college coaches to recommend players for their programs.

An Important Distinction
This makes an important point. Families want to be in charge of their own recruiting processes. They don't want an agent doing the work for them. They don't expect club staffers to do the work for them.
Families do want their clubs to create an environment of engagement. They want to be supported and guided in their recruiting efforts. Given how busy club directors are, this is good news.

Takeaways
If your goal is to keep players at your club, you need to engage them. Families need to feel a connection to your club, that you are in their corner and want to help them succeed. They're not looking to cut corners. Rather, they're looking to club staffers to show them the route and guide them on their way.
Complexity is not important. Engagement is.