It was a cold, January day in Connecticut, and I was tucked away in the Wesleyan Career Center, anxiously awaiting the Skype notification saying Chris from SportsRecruits had joined the call.
During the first semester of senior year, I witnessed many classmates attend final interviews in New York and Boston for Corporate America jobs. I heard the phrase "signing bonus" every other day. Some people even signed contracts at the end of their summer internships. I knew that culture wasn't for me post-college, but I still felt behind in the job search.
I left the Career Center after a nice conversation with Chris Meade, co-founder of SportsRecruits, and remember calling my mom as I walked back to my house. "I think I just got a job offer!" I said. Little did I know, that Skype call led to my first job at a cool startup.
There is no right or wrong job to accept straight out of college. There's just a better choice… and it's working for a startup. Here's why:
Startups are a Team Sport
There's no "I" in team… or in startup. No one person is the most important part of a startup company. Everyone is replaceable. If one teammate isn't pulling their weight, don't expect to work with them much longer. If you make the biggest sale in company history, expect to share the celebrations with your teammates.
My first summer with SportsRecruits was hectic, to say the least. I felt more pressure than I did playing in playoff games with the season on the line. Being on the Summer Circuit for the first time was quite the adventure, but I was backed by my team. I quickly realized that if something did go wrong, we'd take the fall together.
That summer and beyond, qualities like teamwork, grit, hustle, and passion became critical for our success. We rely on each other to move the company forward — we work together to overcome challenges, come up with solutions, and implement new processes that facilitate success and scaling.
There's Freedom to Try New Things
Every startup job posting says it, but it's true. The startup environment grants you freedom to tackle different roles, whether you're ready for it or not. I started at SportsRecruits as an Event Coordinator, which quickly spiraled into Customer Success, a little bit of Sales, then Account Management, and now I'm writing this blog post. It's been fun to try new things I never thought I would, like building a Squarespace website, learning (very) basic code, and setting up scaffolding on lacrosse fields to get that perfect game video angle.
Freedom can be satisfying. It can also be challenging. At a startup, you learn to balance a variety of responsibilities while meeting deadlines, sometimes without too much direction. It might sound scary, but startups give you the chance to really make your work your own. Don't like the way something works? Change it. See a way to improve something? Take ownership and improve it.
Freedom at SportsRecruits also means unlimited vacation days and the ability to work from home if something comes up. It also means the freedom to create your own role in the company where you might see a gap. I can't promise you'll find these perks in the corporate world!
Change is the Only Constant
We rearrange the office as often as we change the water cooler around here. Even your job title is fluid – in the morning, you might be answering Customer Success emails. After lunch, you're pushing product with the rest of the sales team.
At a fast-growing company like SportsRecruits, new faces appear almost every month. Change is not just something we accept here. We expect it, we embrace it, and honestly, we love it. It keeps us on our toes and develops us into flexible, coachable, team players.
Change happens fast. If you excel at your responsibilities, you'll quickly gain more, and more… and more. For some, this can become overwhelming. I see it as a sign of quick growth into an efficient, highly-contributing employee. At a startup, you're never stagnant. If you are, you're likely doing something wrong. You may not have an established "ladder" to climb, or next logical step to take in your career. Instead, it's up to you to get your feet wet in different tasks so you can determine your own path.
A++ Company Culture
Why? First off, you don't have to dress to impress. Sure, you have to impress people in other ways by being a "yes-man", by tackling a new project, or by successfully changing the water jug without splashing the interns. But you will never have to identify with those sweaty, corporate looking people on the subway suffocating in their suits and blazers in the middle of an NYC summer.
Second, we have a nitro cold brew coffee keg (available anytime) and a kegerator, normally filled with a fresh IPA (available after 5PM) to enjoy every day. We also have foosball, which can get very competitive, and office run club, which attracts fast, early-risers training for their next big race. Book club exists (occasionally – we're still building this out), and we embarked on a company offsite in the Catskills this past fall.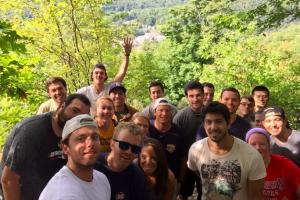 In many ways, the SportsRecruits team is much like the 1980 Men's Gold Medal Olympic Hockey team — we're built on the foundation of good people, hard workers, and team chemistry. We're not necessarily the best players in the world, but together, we are passionate, hard-working, and committed to our jobs. We bring different personalities, ideas, and talents to the office everyday, and our office culture makes coming to work fun.
Personal Growth is Inevitable
No matter where you end up in the workforce, your role and responsibilities will foster personal growth.  Your growth will be exponential at a startup — but you are responsible for facilitating it.
There's no room for employees who can't adapt quickly, so you're forced to rely on your strengths and improve your weaknesses. If I took a unanimous vote among my family and friends 2 years ago, I would easily be voted the most impatient person they know. My patience was non-existent before I was a Customer Success Representative at SportsRecruits. I may still win that vote, but my role in Customer Success forced me to be more patient and tolerant of things out of my control.
SportsRecruits employees embody the phrase "be your own CEO" – here, you quickly learn to sink or swim by conquering tasks that are necessary for the company's progression. It's the best way to learn, to prove yourself, and to grow.
Startups Take Chances… And You Learn To Take Chances, Too
As a freshly educated, eager 21-year old straight out of college, the startup environment was the best place for me to enter the workforce. I didn't know what I wanted to do down the road (and still don't!), so being exposed to so many different opportunities at a startup was intriguing. Lucky for me, SportsRecruits took a chance on me to help contribute to their growing organization.
I'm taking a chance now, too. I'm jumping head first into the college coaching world, not knowing what to expect or how many different responsibilities I will take on over the next few months. I'm not worried, though. I'm leaving the SportsRecruits team a more confident, organized, efficient, patient, and tech-savvy person than I was two years ago when I arrived as fresh meat out of college. More importantly, I'm leaving with great friends and supportive, innovative mentors.
In many ways, starting a career at a startup makes sense. A startup is a new business designed to scale quickly, intended to solve problems efficiently without guaranteed success. Like a startup, I was a new member of the workforce, hoping to learn quickly and contribute to SportsRecruits' growth. We're both still growing, still taking chances, but we're finding our way.