Favorite Schools – Your Organized Target List
Welcome to our "Recruiting Engagement Series," where we will show how to utilize our platform to make the most of the recruiting process.
General: Any important decision or project requires ample research and planning. This is certainly true in the recruiting process as well. At its core, the process is a college search process – and it is important to treat it with the gravity warranted. Researching schools to find those that are a good fit academically, athletically and socially is a must.
Why It Matters: Recruiting is a competitive, zero-sum game. A roster spot taken by one player means it cannot go to another. As such, waiting around and "hoping for the best" is not a practical strategy. By doing research and finding a mix of schools that would be a good fit, a student-athlete can ensure the process is proactive, and not reactive.
How to Do It: Utilizing our Google Maps integration and advanced search functionality, student-athletes can locate schools via any number of filters, putting them in firm control of their recruitment. An example search looks like this: DI programs with less than 10,000 students within 250 miles of home that require SAT scores of 1800.
Use the Advanced Search here on your profile and start searching schools to find the right fit for you academically, athletically and socially!
In addition, the schools that populate have pertinent information attached, including tuition, student:faculty ratio and more. This helps families make sound decisions as to which schools would be the best fits for them, both academically and athletically.
Overheard from a College Coach: "When I hear from a student-athlete, I want that student-athlete to know about the school. Showing genuine interest into things outside of athletics is helpful."
Supporting Statistic: Committed members on our platform Favorite an average of 28 schools.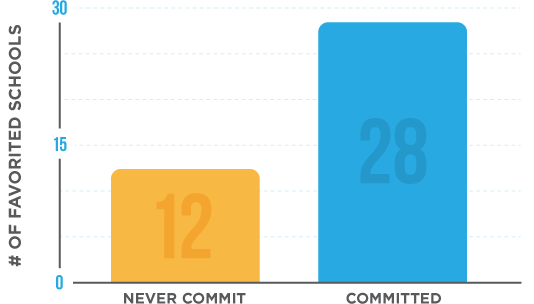 Committed members favorite an average of 28 schools.
Summary: Creating a target list of schools via thorough research ensures the recruiting process will be proactive. These lists will not only make the recruiting process easier, but they will open the student-athlete to a wider and more diversified pool of potential schools.
Bottom line, by doing research, you are increasingly the likelihood that you will end up at your dream school.