In today's digital age, student-athletes can easily connect with college coaches and increase their chances of maximizing their exposure. However, along with these benefits come potential risks to privacy. It is crucial to strike a balance between making yourself accessible to coaches and safeguarding your information. This article will provide valuable insights on protecting your privacy, as well as explain how SportsRecruits is protecting your information.
Maintaining Privacy with Accessibility
When aiming to catch the attention of college coaches, it is essential to ensure that your personal information remains secure. Here are some best practices to consider:
Limit Personal Information: Avoid providing unnecessary personal details online publicly, such as your home address, phone number, or social security number, on insecure channels. Keep in mind that including your contact information is secure when you add it to your SportsRecruits profile, but be careful with including information on your public highlight reel title card or on your social media.
Secure Communication Channels: This is where having a Sportsrecruits Pro account can put you at ease about your private information only being available to active college coaches. Utilizing our built-in-messaging system can give you the assurance that your secure information will not get in front of the wrong people.
The Benefits of Privacy-Oriented Practices
By adopting privacy-focused practices, you gain several advantages as a prospective student-athlete:
Identity Protection: Minimizing the personal information available online reduces the risk of identity theft and other forms of cybercrime. Protecting your data safeguards you from potential harm and preserves your online reputation.
Control Over Information Sharing: By selectively sharing information with coaches, you can maintain greater control over your digital footprint. This strategy helps you present yourself in the best light while preserving your privacy.
How SportsRecruits Keeps Your Information Secure
There are two versions of your SportsRecruits profile; one that you, college coaches, and any guardians associated with your account can see, and the public version. Much of the information displayed on your profile is sensitive (i.e. your GPA, transcript, address, etc). We want to make sure that the general public cannot access this information.
If someone tries to access your SportsRecruits profile without being logged into SportsRecruits as either your family, your club/high school coaches, or a college coach, they will see the protected version of your profile – similar to viewing the social media account of someone who has not yet approved your follow or friend request. It shows your picture, video, sport, position, team name, and a couple of other pieces of higher-level information. The rest of your information is "locked".
Public Profile Preview- Logged in as a College Coach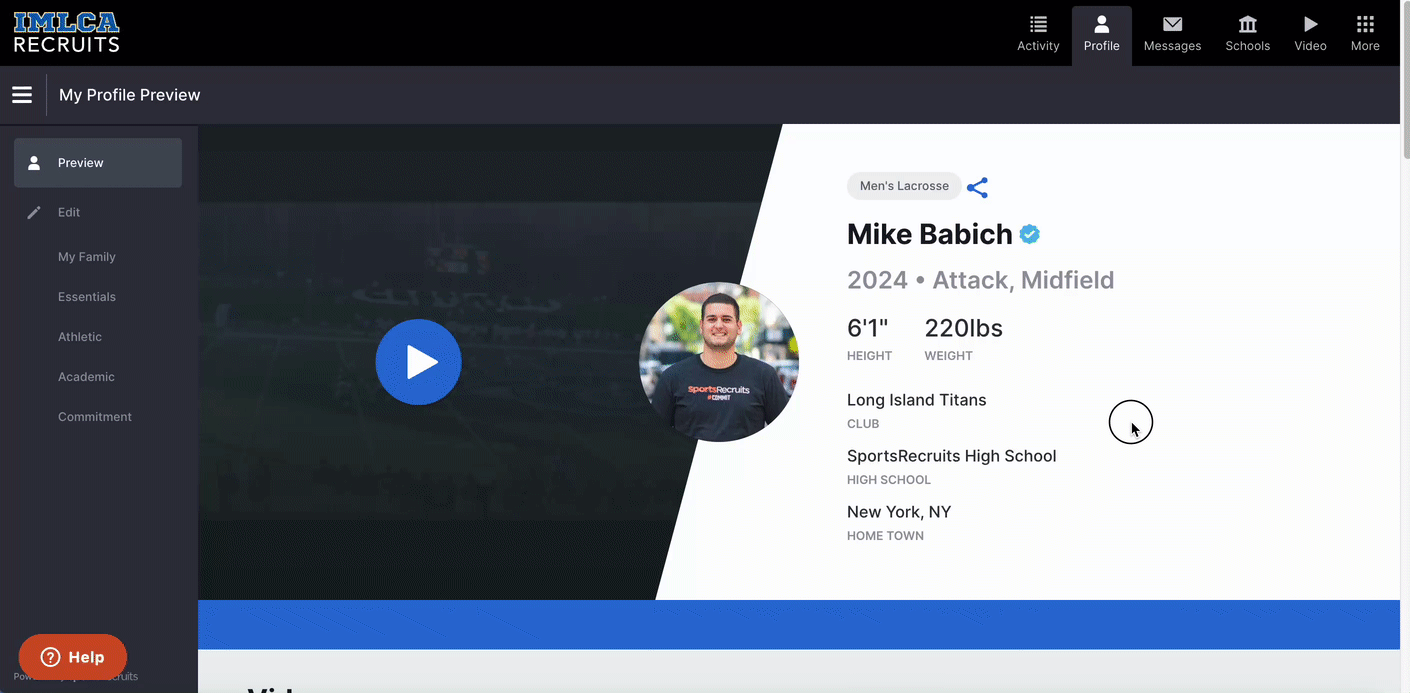 Private Profile Preview- Anyone Without a College Coach Login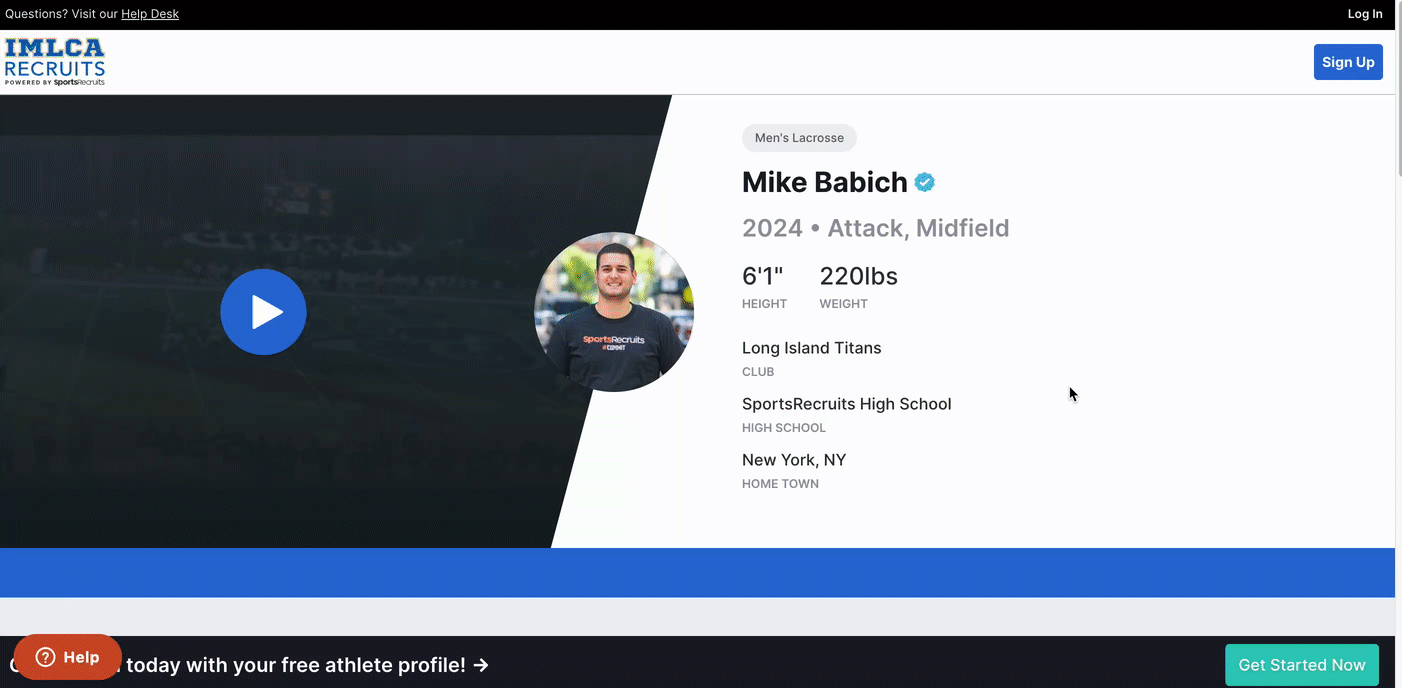 The only people who have access to your full-access profile are your family, your club/high school coaches, and college coaches. These individuals can see anything that you see when you click on the "Profile" tab in the SportsRecruits platform. When you message coaches through the Messaging System, the profile link that is automatically embedded in the email will seamlessly grant college coaches full access to your student-athlete profile.
Utilizing Social Media to Promote Your Profile
To enhance your accessibility while preserving your privacy, consider making your SportsRecruits profile link available on your different social media platforms!
Youtube:
We have recently seen student-athletes' videos being removed from Youtube for "violating community guidelines" of listing email addresses and phone numbers of their high school and club coaches. Instead of sharing your contact information directly on your title card in a highlight video, include a link to your recruiting profile in the description section of the video. This allows coaches to easily access your profile without publicly displaying personal contact details.
Instagram and Twitter
Add the link to your recruiting profile in the bio section of your Instagram or Twitter account. This way, coaches can access your profile without the need for direct contact information.
As a student-athlete seeking to catch the attention of college coaches, it is vital to prioritize your privacy. By implementing the suggested practices outlined in this article, you can strike a balance between accessibility and data protection. Remember, protecting your personal information is crucial to ensuring a safe and successful recruiting journey.
Want to stay up to date on all things recruiting? Follow us on Instagram, Twitter, Facebook, and Youtube!
Mike Babich is a Senior Recruiting Analyst at SportsRecruits. Mike has experience in collegiate athletics as a former football student-athlete at Mount Ida College, as well as a Graduate Assistant and Assistant Football Coach at Long Island University. He also served in the role of an Admissions Counselor for two years at Molloy College in Rockville Centre, New York. He has a passion for helping student-athletes better navigate and understand the recruiting process.