IMLCARecruits Press Release – November 1, 2021
The President and Board of Directors of the Intercollegiate Men's Lacrosse Coaches Association (IMLCA), on behalf of its over 700 member NCAA and NAIA coaches, announced today that the IMCLA has entered into an exclusive long-term relationship with SportsRecruits to launch IMLCARecruits, a suite of integrated technology products to simplify the recruiting process for athletes, parents, club organizations, and college coaches.
"The IMLCA had been looking for ways to streamline the recruiting process for student-athletes and our membership base of college coaches and IMCLARecruits is the answer," the IMLCA Board of Directors announced. "IMLCARecruits provides a prospective student-athlete all the tools he needs to find the right fit while making it easy for our membership base of college coaches to access the information and video they need to evaluate a prospective student-athlete."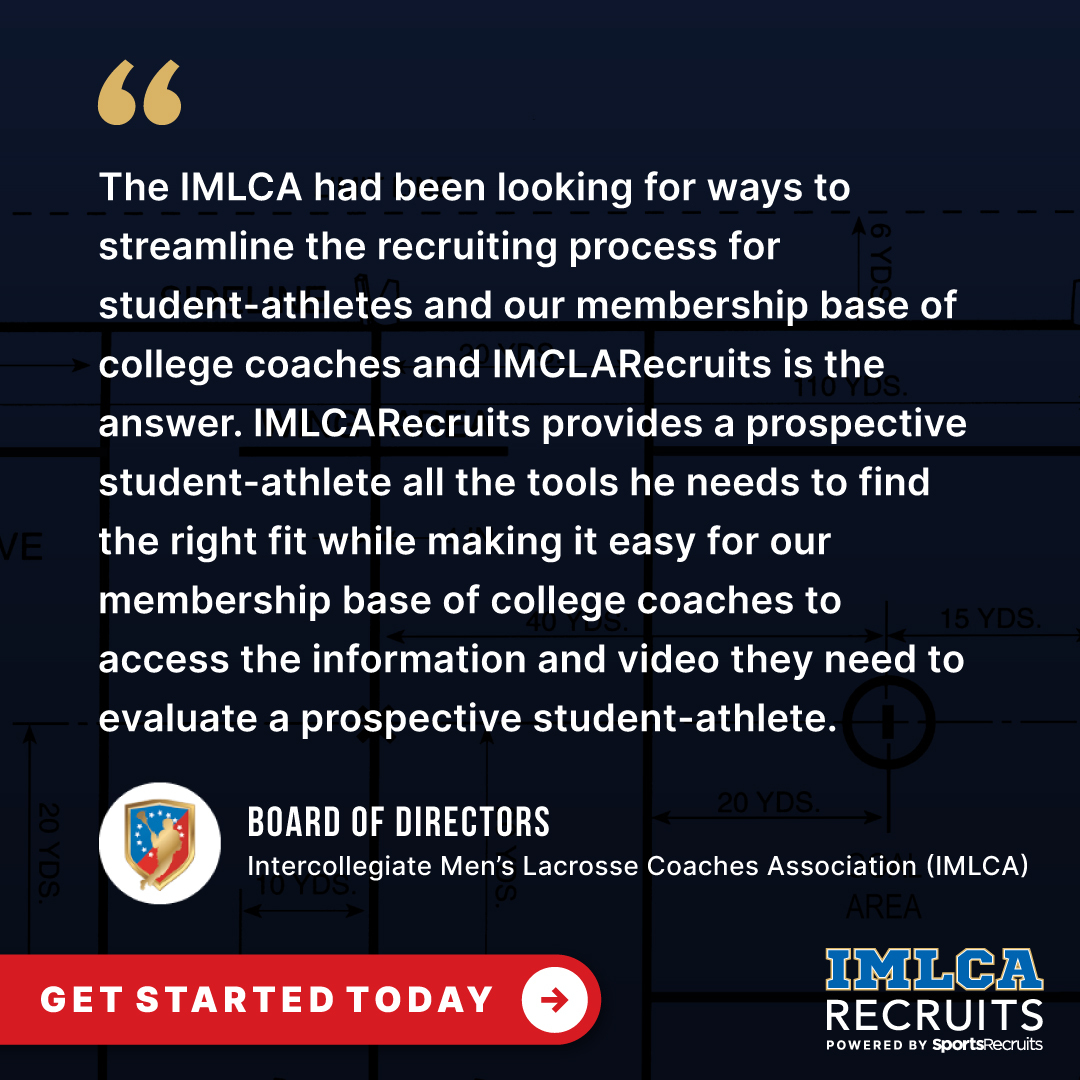 Every prospective athlete will build and maintain a athlete profile on IMLCARecruits, providing the college coaching community a single source of truth for prospective student-athlete video, academics, etc. College coaches will be able to search and sort the entire landscape of prospective student-athletes in one place. Conversely, student-athletes will use best-in-class technology to search colleges and universities by size, division, region, academic selectivity, major, cost, etc.
At recruiting events, college coaches will use EventBeacon for digital athlete evaluations and those evaluations will sync with athlete profiles on IMLCARecruits, allowing coaches to seamlessly discover, track, and recruit student-athletes who are a fit for their program.
"Our mission statement since we launched in 2008 has been to empower student-athletes to pursue their dreams," said Matt Wheeler, Co-Founder, and Co-CEO of SportsRecruits. "IMLCARecruits puts a student-athlete and his family in complete control of their college search and recruiting process. These days, everything is on demand and IMCLARecruits will allow a college coach to get to the information and video they need on a prospective student-athlete in a few clicks."
IMLCARecruits will house game film from all IMLCA Tournament Series events along with a suite of online tools to streamline the college search and recruiting process for student-athletes.
To learn more about this exciting new product, please visit www.IMLCArecruits.org
About the IMLCA – The IMLCA was formed to serve the intercollegiate men's lacrosse coaches community in the following ways:
Develop a deep sense of responsibility in teaching, promotion, and maintaining the growth of lacrosse in accordance with the highest ideals of fair play.
Stimulate the development of quality leadership for lacrosse programs by recognizing professional contributions to the sport.
Keep men's collegiate lacrosse coaches informed of current coaching techniques, while also identifying and pursuing issues relevant to lacrosse coaches and to the sport of lacrosse.
Promote cooperative efforts with other professional organizations interested in the development of lacrosse and athletics in general.
About SportsRecruits – SportsRecruits is a platform that provides clubs, athletes and their families access to every college coach in the country. Club organizations use our platform to empower their athletes in the recruiting process and oversee their efforts and communication with complete transparency. Connections made on the platform have resulted in commitments to the best academic and athletic institutions across the country. SportsRecruits is headquartered in New York City.