NCAA DI Dead Period Extended to July 31st
On May 27th the NCAA Division I Council Coordination Committee has released updates regarding COVID-19 and how it will affect the recruiting process. They have decided to extend the recruiting dead period (as defined in NCAA Bylaw 13.02.5.5) to July 31st. This means that there is no in-person recruiting between college coaches and prospective student-athletes until that date. The Committee will continue to monitor the situation closely.
NCAA Division I Council Chair M. Grace Callhoun, Athletic Director at University of Pennsylvania explained that this recruiting rule allows for their to be uniformity throughout the Division I.
The extension maintains consistent recruiting rules for all sports and allows coaches to focus on the student-athletes who may be returning to campus.

The committee is committed to reviewing the dead period again in late June or early July.

M. Grace Calhoun, Insidethehall.com
The NCAA will continue to evaluate the these recruiting decisions over the next few months.
What about DII, DIII, NAIA, NJCAA?
To learn about these organizations and their updates regarding COVID-19 and how it is affecting the recruiting process, please refer to our update on May 13th, 2020.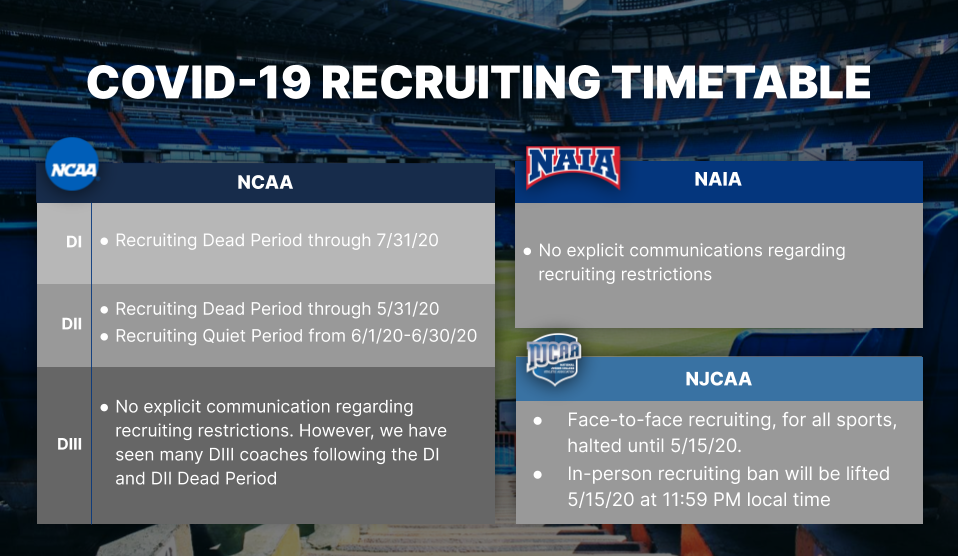 What is a Dead Period?
A dead period is when there is no in-person face to face contact between student-athletes and college coaches. During this time it is not permissible to allow official or unofficial visits by prospective student-athletes to the institution's campus. However, what is most important is that they are still able to contact recruits by phone and email during this period. This includes any form of video calls, including Facetime, Skype, Zoom etc. 
What Should I be Doing?
Stay healthy
Keep your grades up
Make sure your recruiting profile is up to date
Update your videos
Create new videos i.e. skills video, weight training, about me, etc.
Catch up on your messages with schools
Talk to your coach about your favorites list
How can I Stay up to Date on Important Announcements?
Follow SportsRecruits on Instagram, Twitter, and Facebook where we will be posting important recruiting updates as information changes. You can also follow the Inside the NCAA Twitter channel,  the NJCAA Twitter and the NAIA COVID Updates page where they have been posting updates in real-time. Lastly, check out the NCAA website for additional updates and resources.
How Do I Access My SportsRecruits Profile?
If you already have an account with us you can log in here.
If you are interested in signing up for SportsRecruits for free, click here!
About the Author

Emily Wetz is a Senior Insights Analyst at SportsRecruits. Emily's' experience as a former basketball student-athlete has driven her passion for helping student-athletes better navigate and understand the recruiting process.
Want to stay up to date on all things recruiting? Follow us on Instagram, Twitter, and Facebook!