What is Happening?
The NCAA Division I and Division II Council have released updates on how the Novel Coronavirus (COVID-19) will be affecting recruiting this spring. At this time, there will be no on or off-campus in-person recruiting activity until at least May 31st in what they are calling a Dead Period for both Division I and Division II.
The NCAA Division I Council Coordination Committee has extended this dead period through June 30th and is scheduled to reconvene on May 27th, 2020 to address the possibility of extending the current recruiting dead period again.
After meeting on May 27th, the NCAA Division I Coordination Committee has extended the dead period through July 31st. The committee will continue to evaluate the dead period.
Written correspondence and phone calls are permitted in a dead period. This "dead period" is a precaution they are putting in place, like many organizations, to ensure the safety of coaches and student-athletes.
The NCAA Division II Administrative Committee approved a quiet period extending from June 1st to June 30th. There will still be no in-person, off-campus recruiting contacts or evaluations but in-person recruiting contacts with prospective student-athletes will only be permissible on the member institution's campus.
There has not been any explicit communication about recruiting for NCAA Division III but many believe Division III coaches will follow similar protocol to Division I and Division II as advised by their athletic department.
However, the NCAA DIII NESCAC Conference has recently stated that they will prohibit all in-person recruiting through June 15th.
The NJCAA has come out with a similar statement announcing that "all on and off-campus recruiting for all sports will be halted until May 15th with further evaluation to be assessed at that point in time. " (NJCAA, April 3rd, 2020).
The NAIA has not come out with a statement regarding recruiting but is expected to follow suit with the NCAA and NJCAA in terms of limitations on in-person recruiting.
For more information on the most recent recruiting updates, check out our most recent blog post pertaining to these changes.
Updated: May 27th, 2020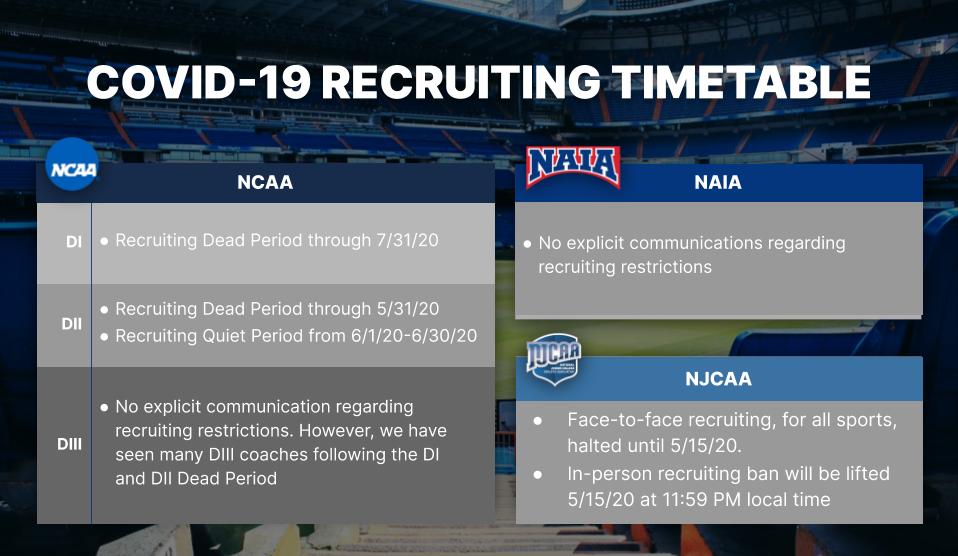 What is a Dead Period? 
A dead period is when there is no face to face contact or evaluations allowed by college coaches to their prospective recruits. During this time it is not permissible to allow official or unofficial visits by prospective student-athletes to the institution's campus. However, what is most important is that they are still able to contact recruits by phone and email during this period. This includes any form of video calls, including Facetime, Skype, Zoom etc. 
What Should Prospective Student-Athletes be Doing?  
Stay Healthy: The most important thing that you can do is stay healthy. To learn more about preventative measures you can take you can visit the World Health Organization website.
Keep Your Grades Up: Maybe you are one of the many students that are in a school district that has implemented remote classrooms or maybe you are still in school. Either way, there is a lot of media and talk around COVID, which can be distracting, but at the end of the school year you will still receive grades and these grades will be evaluated by college coaches.  Stay focused on your schoolwork.
Make Sure Your Recruiting Profile is up to Date: College coaches are unable to evaluate athletes on the field or court right now.  It is time to make sure you are using technology to your advantage. College Recruiting profiles like the SportsRecruits profile are a way for college coaches to assess you from afar.
Update Your Videos: Because college coaches cannot see you in person, video is the perfect way for college coaches to see you play.  Make sure you update any highlight reels or skills videos as well as make sure you have raw game film up on your profile for college coaches to see.
Catch Up on Your Messages with Schools: College coaches are still allowed to recruit by written correspondence as well as telephone calls. Review your past messages with college coaches and be sure to reach out with any updates about your season, your video, or on your academics.
Talking To Your Coach About Your Favorite List of Schools: This is a good time to reassess your list of schools. With a dead period in place, you can take a little time to do the research on the schools you are interested in and send them over to your coach for feedback.
How can I Stay up to Date on Important Announcements?
The NCAA has directed people to their website for any important updates and resources that they have that will be beneficial. You can also follow the Inside the NCAA Twitter channel,  the NJCAA Twitter, and the NAIA COVID Updates page where they have been posting updates in real-time.
NCAA Update- Division I Council Extends Eligibility for Spring Student-Athletes impacted by COVID-19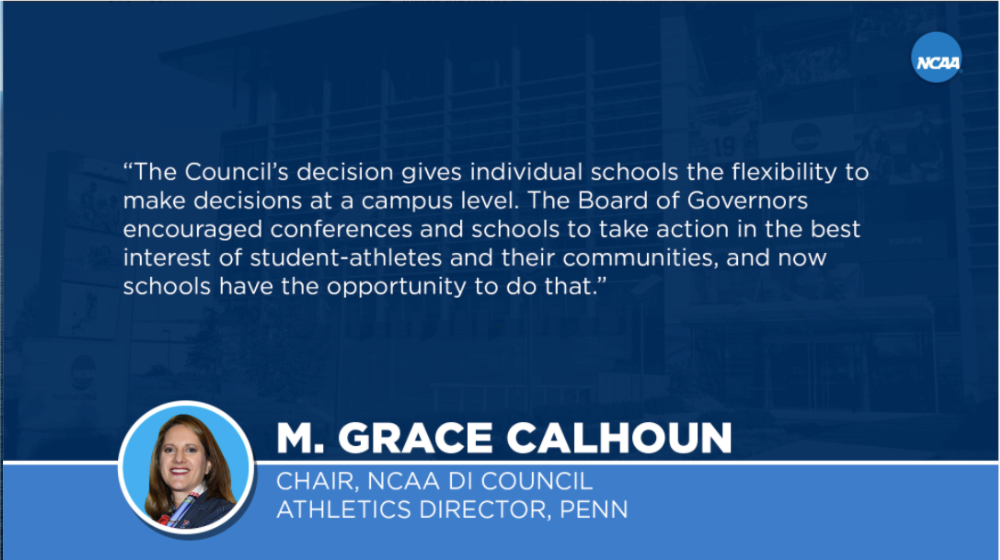 The NCAA Division I Council met on Monday, March 30th to discuss the eligibility of Spring and Winter Athletes amid the COVID-19 pandemic. They decided that "Spring Sport Athletes will receive an additional season of competition and an extension of their period of eligibility."
This decision ultimately gives the individual programs the ability to make decisions that are best for their own campus.
Winter Sport Athletes (such as Basketball and Ice Hockey) were not granted an additional year of eligibility.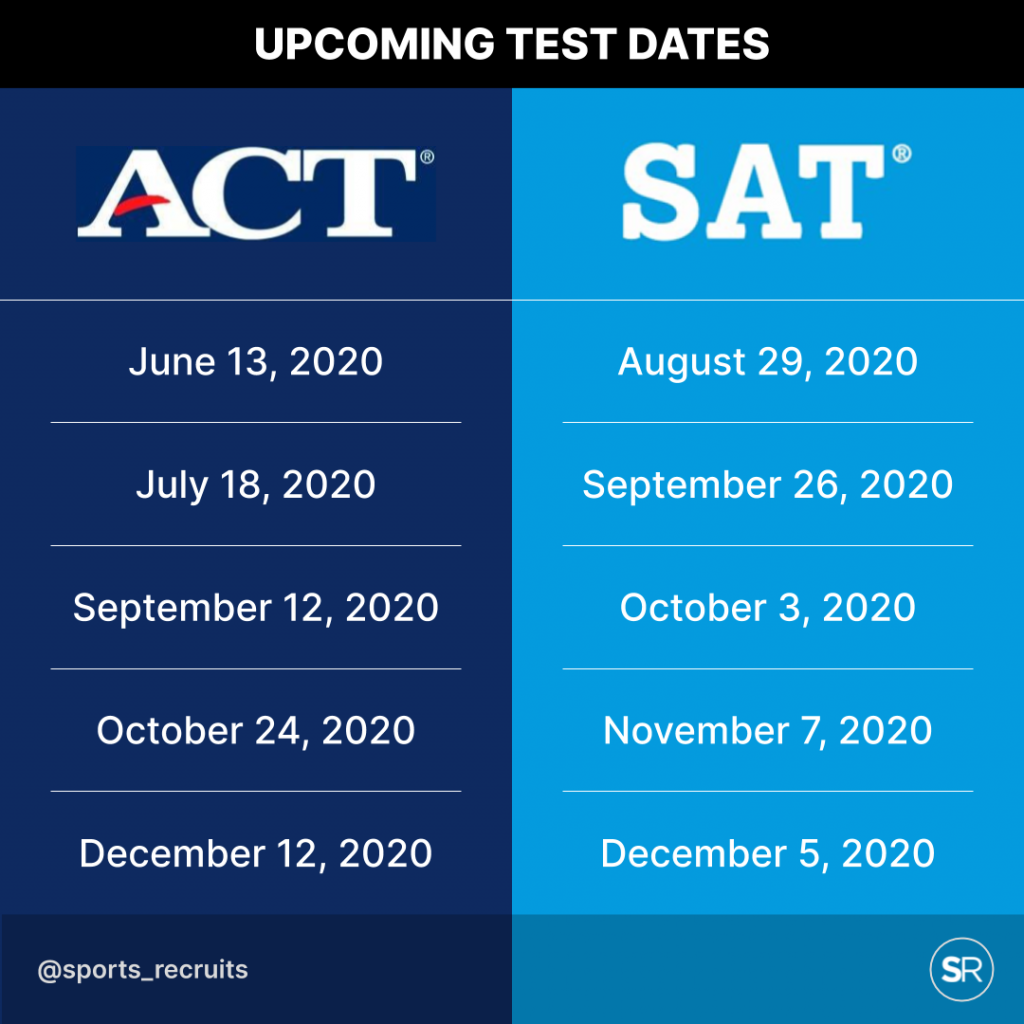 What about the SAT and ACT?
The SAT has canceled its May 2nd and June 6th test date. The next available test date is August 29th. They have also one additional test date on September 26th. Check the CollegeBoard Website

 for any further updates.
The ACT rescheduled its April 4 national test date to June 13 across the U.S. The next available test date would be July 18th. Make sure you check for updates at the ACT Website.
What does this mean for High School Prospective Student-Athletes?
Teams will be able to carry more scholarship athletes to assist in bringing on the incoming freshman recruits, as well as the athletes who decide to stay for the last year. It will ultimately be up to each team to decide how they would like to move forward with assisting student-athletes who want to return for an additional year of eligibility.
The Council also decided that athletic aid does not have to match the previous package for those athletes, so it possible a majority of student athletes may decide to not return for an additional year. If you are a 2020 committed athlete, the best course of action at this point is to contact your future college coach to see if this will be affecting your spot on the roster or your scholarship package.
How Can SportsRecruits Help?
Your SportsRecruits profile gives you the tools to remain in contact with college programs you are interested in and keep them up to date with where you are in your athletic and academic career.
You will have full transparency into what college coaches are looking at your profile, video, transcript and much more. Even though you can't see college coaches on the sidelines doesn't mean they should not have the opportunity to evaluate you.
The Messaging System
Just because you cannot communicate with college coaches face to face, does not mean you should be stopping all communication. It is important to continue to reach out to college coaches via email regarding any athletic or academic updates.
With the SportsRecruits messaging system you have access to every college program in the country. Each message includes a link to your profile so you can track what college coaches are looking at your profile.
Not sure where to start? Check out some of SportsRecruits' resources on messaging college coaches.
Updating Your Video
With college coaches not being able to evaluate student-athletes in person, now would be a great time to put together an updated highlight reel or skills video for coaches to evaluate you from the comfort of their own home. We suggest having at least one highlight reel or skills video and one video of raw game film for coaches to watch up on your profile. If you don't have video already, ask your coach or teammates and ask if they have access to film.
With the SportsRecruits Highlight Reel Editor Tool you are able to create a highlight reel or skills video that can be added to your SportsRecruits profile for college coaches to view. For tips on how to create an effective video, check out our blog post, " Best Practices on How to Build a Highlight Reel"
If you don't have time to make a reel yourself. SportsRecruits has a team dedicated to making professional highlight reels and skills videos. Take a look at some of the videos that our team has created.
Having your video on your SportsRecruits profile allows you to track who is viewing your video. This feature becomes even more important when you are not able to be seen at events in this dead period.
Talking To Your Coach About Your Favorite List of Schools
Now is a great time to lean into your Athletic Advocates, (club coach, high school coach, trainer, etc), to talk about your Target List of Schools. Make sure you have a well-researched list before you ask for feedback. You can do this with our advanced school search feature. On SportsRecruits you can search for schools by academic, athletic and financial criteria. It is important to come up with a well-rounded list for yourself academically, athletically and personally.
While on-campus official and unofficial visits are temporarily suspended you can at least evaluate school using the information that SportsRecruits has on their college landing pages. While this is not the same as stepping on campus. Our pages have in-depth information from the IPEDS database (used by sites like US News and World Report). You'll be able to see information from the cost of the school to the majors that the school offers all in one place.
If you have SportsRecruits through your high school or club coach you can message your coach through SportsRecruits and ask them to take a look at your favorite list of schools and tag schools they think are a good fit. You can also have them rank your list by reach, fit, and safety. You can get direct feedback from your coach without even having to meet with them in person.
How Do I Access My SportsRecruits Profile?
If you already have an account with us you can log in here.
If you are interested in signing up for SportsRecruits for free, click here!
*This blog post has been updated on: April 24th, 2020*
About the Author

Emily Wetz is a Senior Insights Analyst at SportsRecruits. Emily's' experience as a former basketball student-athlete has driven her passion for helping student-athletes better navigate and understand the recruiting process.
Want to stay up to date on all things recruiting? Follow us on Instagram, Twitter, and Facebook!