April 11th, 2018 is likely circled on any senior student-athlete's calendar. The date marks the beginning of the Regular National Letter of Intent Signing Period for Division I and Division II athletes in ALL sports except Football, Men's and Women's Soccer, and Men's Water Polo. The table below, from nationalletter.org, highlights the key dates surrounding the various National Letter of Intent Signing Days: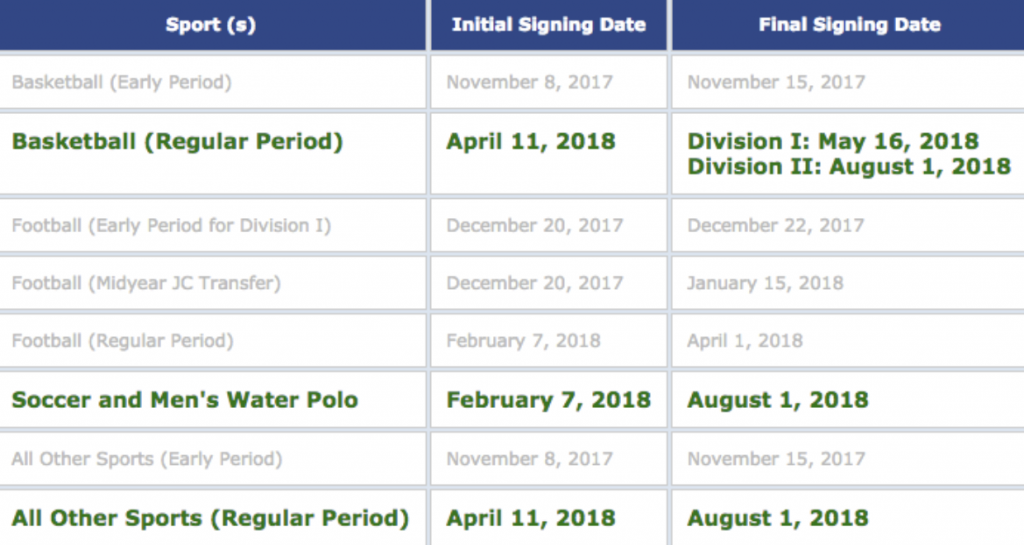 How Does National Signing Day Affect My Recruiting Process?
The National Letter of Intent (NLI) is a binding agreement between a student-athlete and NCAA institution. It is used only with participating NCAA Division I and Division II institutions. To note, the Ivy League does not participate in the NLI program.
The agreement states that the student-athlete must attend the chosen institution, full-time, for one academic year, and that the institution must provide the agreed upon financial aid for one academic year.
Signing an NLI effectively ends the recruiting process for a student-athlete and his/her family. Once the document is signed, other NCAA Division I and Division II institutions are prohibited from recruiting that student-athlete.
What is the Significance of April 11th to My Process?
April 11th is the start of the Regular Signing Period for senior student-athletes. This signing period extends through August 1st, 2018. There was an Early Signing Period for the Class of 2018 back in November, which many top-tier schools utilize to secure their most sought after recruits. Although this period applies only to the 2018 class, it marks a significant transition date for student-athletes in any high school class. Here are a few reasons why.
2018's: The time is now.
For 2018's hoping to get some type of athletic aid, you have until August 1st to land that NLI from a Division I or Division II institution. If you have not been in direct contact with coaches, the chances of receiving a scholarship offer are now very slim. However, there are many programs out there looking to fill any missing pieces to their 2018 recruiting class over these next few months. Scholarship money may be slim, but there is always the opportunity to pursue a "preferred walk-on" position with your dream school.
2019's: The focus is shifting.
Over the past few months, schools have most likely been focused on recruiting and verbally offering positions to 2018 students and their top prospects in the 2019 class. Now, the focus shifts heavily to filling the 2019 class. If you are 2019, April 11th is as significant to you as it is to a senior signing his/her NLI. Now is the time to up your messaging with the colleges you're interested in. Now is the time to ask coaches where they are at with their 2019 process. Now is the time to think about whose NLI you want to be signing next year.
2020's: Your time is coming.
The ever-important September 1st date (June 15th for Division II), which opens recruiting contact between you and college coaches, is quickly approaching. If your goal is to end up at a Division I or Division II institution, you do not want September 1st to be the first time college coaches see your name. You should be expressing your interest to these coaches through messaging, sending them your highlight tapes or skills videos, and figuring out your summer schedule to get the best exposure possible. With the 2018 class wrapping up, more time and resources will shift to the 2020 class.
2021's: Prepare to succeed.
With legislative plans to halt early recruiting looming, now is the time to focus on the college exploration phase of your process. Build out your early target list of schools and reflect on why you are interested in these schools. It is never too early to express interest in a college through a message to a college coach. You won't be able to receive any recruiting-related response, but that doesn't stop a coach from noting your interest. College coaches want prospects that they know are interested in their program. This summer will be a great time to attend camps and showcases to better your skills, experience different college coaching styles, and perhaps land on a coach's radar.