Introduction
Club sports organizations operate in seasonal bursts. At certain points in a calendar year, student-athletes are likely not working with a club on a day-to-day basis. This may be from playing in their high school seasons, or because they are otherwise occupied and away from the club.
While offseasons can be times when a student-athlete and families disconnect from a club organization, they do not have to be; and further, they should not be. It is during these times that a family's loyalty may waver, or connection with a club grow weaker. In an era of competition in youth sports, this is not an acceptable occurrence. It is vital to have your families identify as members of your club all year long.
By adopting simple principles of the Membership Economy, club sports organizations can ensure their relationships with families continue on a year-round a year-round basis.
Keeping A Year-Round Connection with Families
It's vital for clubs to build direct relationships with their student-athletes and families. Why? In addition to providing the best experience possible, there is a practical answer as well: Families will play for multiple teams before finally settling down and playing for one.
Building loyalty – especially among younger players – is vital, because it will tether student-athletes to your organization. In addition to allowing for better relationships and thus improving the assistance you can provide, this loyalty will ensure families do not leave your club.
Remember, in the Membership Economy, customers pay for access to a consistently-improving suite of goods and services. Customers want to continue paying membership dues, because they value what you provide and don't want to lose access to it.
Clubs already provide families with tremendous value. Internet-enabled technology allows clubs to provide those same services in a manner that is quicker, more convenient, and even more personalized than ever before.
To do this, it's vital to make everything a club offers available year-round to your players. This means putting training videos online and making other resources available electronically. The goal is for student-athletes to be consistently engaging with the experiences your club provides.
Equally as important is for the club to have the ability to check in on student-athlete activity in offseason months. These "check-ins" will provide a comprehensive experience for the student-athlete.
Why This is Important
Club sports organizations are by definition membership driven. However, there are many advantages of this movement toward a Membership Economy of which they are not currently taking full advantage.
Technology has allowed businesses to build ongoing relationships with their customers, giving them new, easier avenues by which to provide the same value.
The question for clubs, then, is how they can go about implementing small changes in-line with this model that can pay dividends for both their families and them moving forward.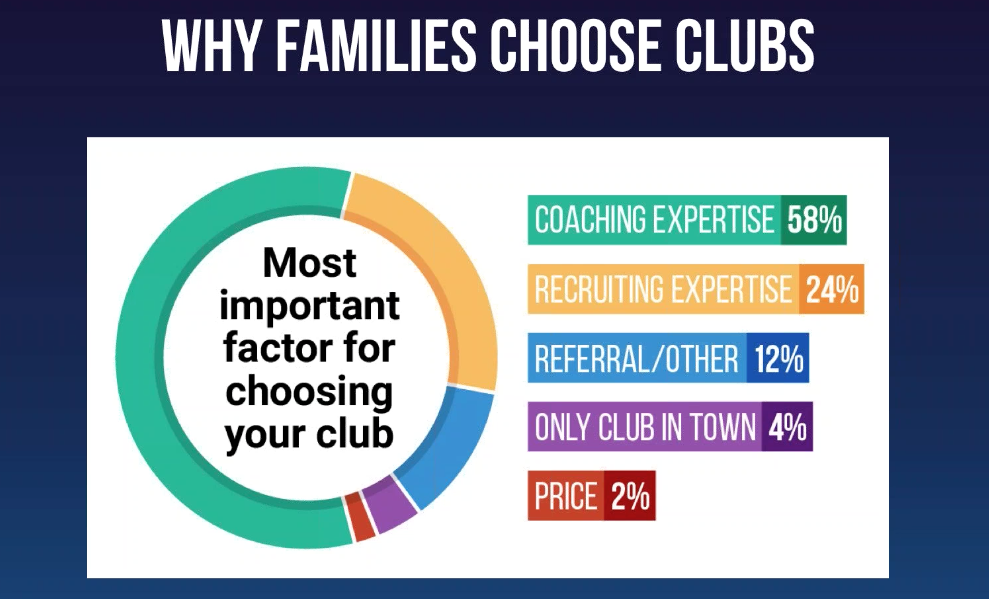 A recent survey conducted by SportsRecruits found that 82% of families rate coaching and recruiting expertise as the most important 2 factors they want their clubs to provide.
Below, we discuss how club sports can enhance their efforts in these areas and provide actionable methods for implementing this new model.
Coaching
The greatest coaches know that coaching is as much about what they do off the field as it is about what they do on it. Traditionally, clubs have been faced with a high barrier to providing exactly the type of off-the-field training that distinguishes excellent coaching from something less: time.
Players have school from 9am-4pm and homework from 7pm-10pm, leaving a short window for club sports. In this window, parents are finishing work and preparing dinner. Simply put, only the player is able to interact with their club and directly experience the value their club is creating.
Technology allows your club to deliver valuable off-the-field coaching that is unconstrained by physical location, schedule conflicts, or prior commitments.
1. Create a library of skill drills and instructional materials. Good players don't become great during the 10 hours per week they spend at practice or in games. They become great in the 158 hours left over. These are the hours where clubs can leverage technology to provide tremendous value. If your coaches already prescribe individual drills or exercises they should be doing after practice, it's likely you can make them more useful by posting them online so players can access them whenever they have time, wherever they are.
2.Instructional videos. Skill exercises require good form and technique. The mechanics are crucial – and it's extremely difficult to convey the correct mechanics with words alone. The same type of in-person instruction club coaches provide on the field can be provided online. Record drills in practice and highlight the proper way to execute specific movements. This is incredible value that families aren't going to find anywhere else. And given the ubiquity of smartphones that can capture HD video at up to 240 frames-per-second, clubs can do it at minimal cost.
College Recruiting
The club sports space has opened recruiting avenues previously accessible to only a very small subset of student-athletes located in heavily recruited "hotbed" areas. Technology is expanding this access even further, allowing kids across the country to get exposure from the college coaching community, without the steep financial burden of physical travel. This technology also allows clubs to provide even greater assistance to Clubs have an opportunity to capitalize on this development in a major way.
Here are a few simple ways to do so:
1. Post your "Recruiting Night" slides online. Many clubs organize periodic "Recruiting Nights" for players and their families. These allow club staffers to outline their approach to recruiting for club players, to instruct players on what is expected of them, and address questions from families on a confusing and stressful topic. Make the slides available online, so that families can reference them after the fact and can benefit from them whether they were able to make the meeting or not.
2. Provide a recruiting portal. By recruiting portal, we simply mean a centralized online location where players can conduct, organize, and seek guidance about the recruiting process. While you are an expert in athletic recruiting with years of experience, for most families, the process is new and confusing. This portal should be a home base for all their recruiting efforts. Clubs can actively help players get recruited, but ultimately, success in the recruiting process is determined by the hard work of the player. If club membership affords them access to the tools to take ownership of their recruiting processes, and you'll never have to worry about them leaving your club.
3. Monitor player's progress and provide timely, targeted feedback. This is traditionally one of the toughest duties for club staff to perform. Even if your club has the resources to work with each player individually at regular enough intervals to make a difference, you still have to trust that players are doing what they tell you they're doing (contacting schools, organizing their videos, etc.). Additionally, research shows that parents are often more engaged in the recruiting process than the players. You interact with your players multiple times per week, but many parents are too busy to meet with their kids' clubs regularly. Fortunately, this process can be managed automatically with software that tracks each player's progress and compiles it for you.
Conclusion
A major benefit of the Membership Economy is that it creates customer loyalty by increasing value. When value is higher, loyalty increases. When loyalty increases, members do not want to leave. Bonds are created and fostered.
By adopting simple principles of the Membership Economy, club sports organizations can ensure their relationships with families continue on a year-round a year-round basis.