If you are housing your athletic recruiting videos or highlight reels on YouTube, you're not doing yourself any favors in the recruiting process.
YouTube is awesome. It's not just for videos of cute dogs or funny viral sketches anymore. But it does a terrible job housing your highlight reels. Yes, the video works. Great! But that is where the functionality ends.
While YouTube, Vimeo, and other hosting sites do a great job getting your information online, they provide absolutely no helpful insights for the recruiting process.
Outside of a play count, you have no idea how your highlight reel is working for you. You can tweet it. You can email it. However, once the distribution ends, it enters an internet black hole, populating next to an awful cover of Adele's "Hello" or a compilation of hoverboard fails.
Relying on these hosting sites leads to the following issues in the recruiting process, which we will break down below:
Hollow Analytics. While you can see a play count, you don't actually know who is viewing your video. Is it a college coach, or your Great Aunt Tessi? There is no way to see emerging trends or ability to target your efforts according to interest received, because you have no idea who is viewing your video.
Hesitation. Posting your video, and then emailing it around and tossing it up on social media may serve as a Red Herring, suggesting your part is done in the recruiting process. In reality, that should be the start line – not the finish line.
Apathy. If you haven't received any feedback, you may think the recruiting process has passed you by, or arrive at a false conclusion that there is no home for you at the next level. This is not true, and detrimental to finding the right fit at the next level.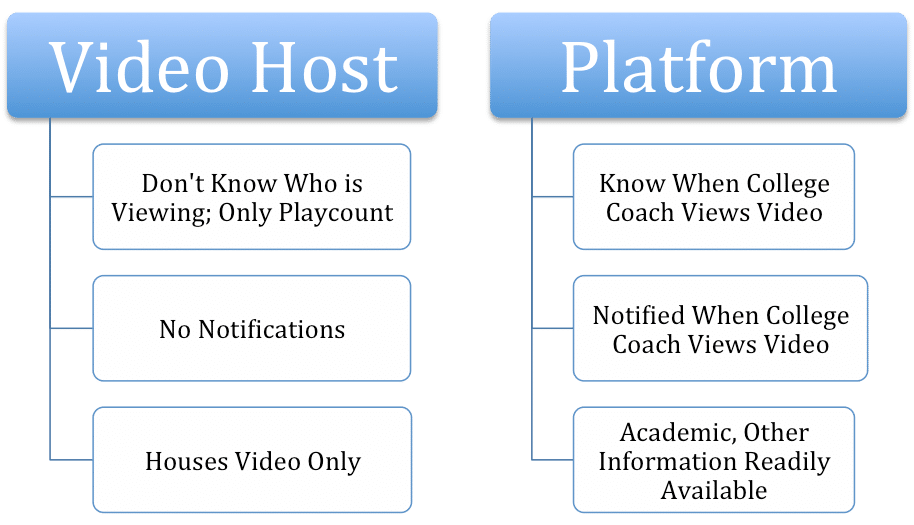 Highlight Reels Analytics: Great Scott!
Video is a vital component of the recruiting process. It introduces your athletic abilities to a college coach, and serves as an impetus to peak their interest. If they like what they see on video, they will likely want to see you play live.
Given the importance of video to a student-athlete's recruitment, it's shocking how many players believe simply using a video hosting service (YouTube, et. al.) is all they need. It may be because the shortcomings as they relate to the recruiting process are not readily apparent.
After all, the video is up and it works. What could be the issue? However, digging past surface functionality allows the warts to emerge.
Players, parents and club staffers helping them have absolutely no idea who is actually viewing the video online. While playcounts are nice – "look, I have over 500 views!" – they do not provide insights as to who is actually watching. Half of those views could be your own, or family and friends you sent the link.
You have no way of knowing which college coaches (if any) have viewed the video, or when those views occurred. The ability to be proactive – by following up or refocusing your efforts – is now greatly limited.
This is a large disadvantage in a process where timing is very important.
In an era where everything is tracked – from the amount of steps you take in a day to the number of viewers of the Super Bowl – there is no reason not to extend this principle to assist you in the recruiting process.
It doesn't have to be this way.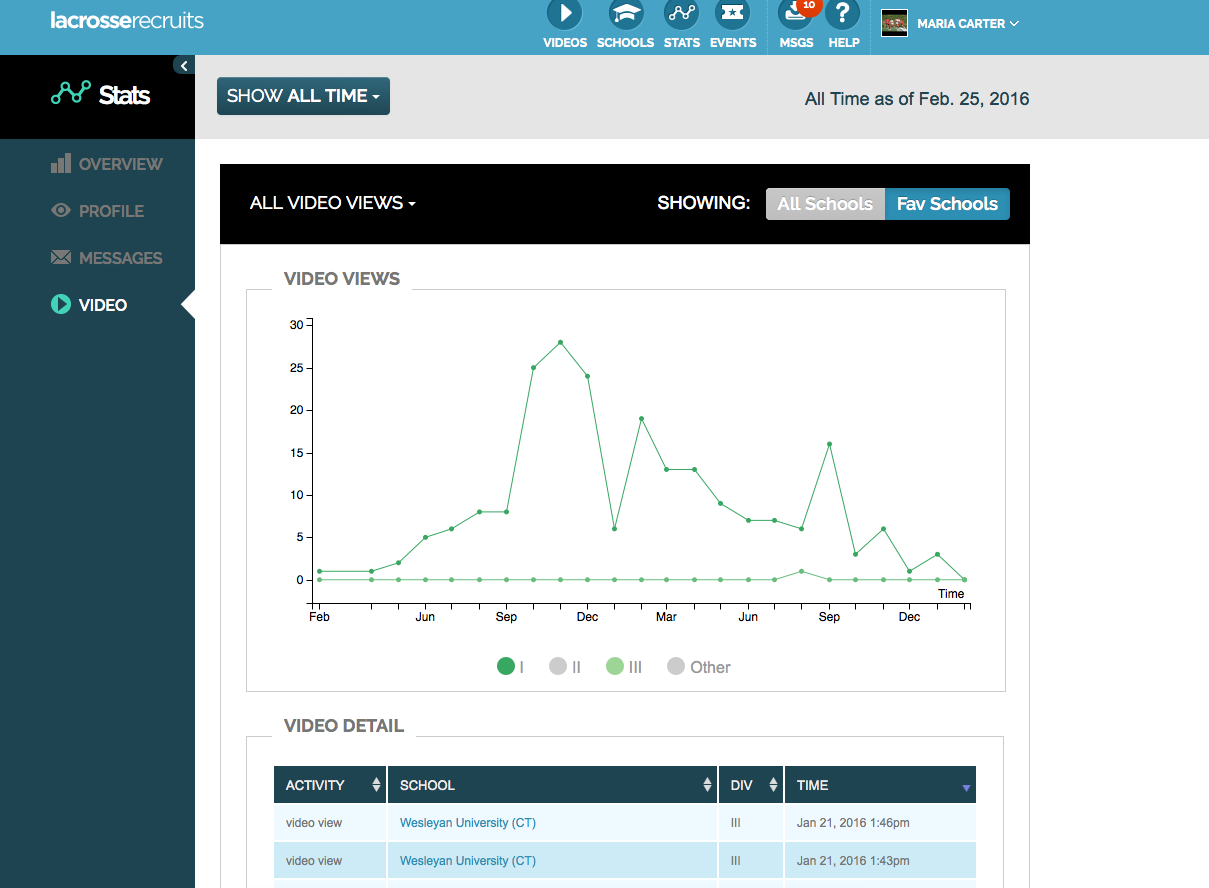 Platform Solutions: Analytics
On our platform, every video view (and profile view) is tracked, meaning when a college coach watches your video, you know about it immediately.
You can sign up for notifications – email and/or text message – alerting you, putting you firmly in charge of the next steps in your process.
Best of all, you don't have to host the video on our platform! If you have a Youtube, Vimeo or Hudl link, there is a place where you just copy/paste the URL, and the video will be on your profile in seconds.
All of the tracking power, none of the hassle.
You can learn more information here about how to take charge of your recruitment.

The Video Red Herring
The relief of sending posting your highlight reel online has set in. Finally! As you bask in the glory of your highlight reel, you decide to observe the masterpiece, which is just how you remembered it from four minutes ago. You Tweet it out. You email it to coaches. Sit back and enjoy.
But wait, has anyone watched yet? You refresh the page, waiting to see if the play count has increased. You check your email for responses. You refresh twitter hoping for some beautiful exchange that will lead you to the school of your dreams.
Sound familiar?
There are few more crippling feelings than that of the unknown. Bad news or good news, knowledge can at least catalyze a future plan. This could not be more true in a process that necessitates action – like recruiting.
A kind of paralysis may set while waiting on a response, as the specter of the unknown hampers proactivity. In the recruiting process, time is essential. It's a zero-sum game: There are a finite number of spots, and one student-athlete taking that spot means another cannot.
YouTube and its cousins offer no way to track engagement. Sending that link to a college coach, you have no idea if they viewed your video and think you might be a fit.
In effect, video hosting with no analytics is making you reactive. It may feel like hard work to get to this point means you are finished; but in reality, the time for activity is just beginning.
While this is not meant to suggest rushing is the best course of action (it's not), it meant to suggest that focus should be where the interest from college coaches exists. The "fish where the fish are" mentality.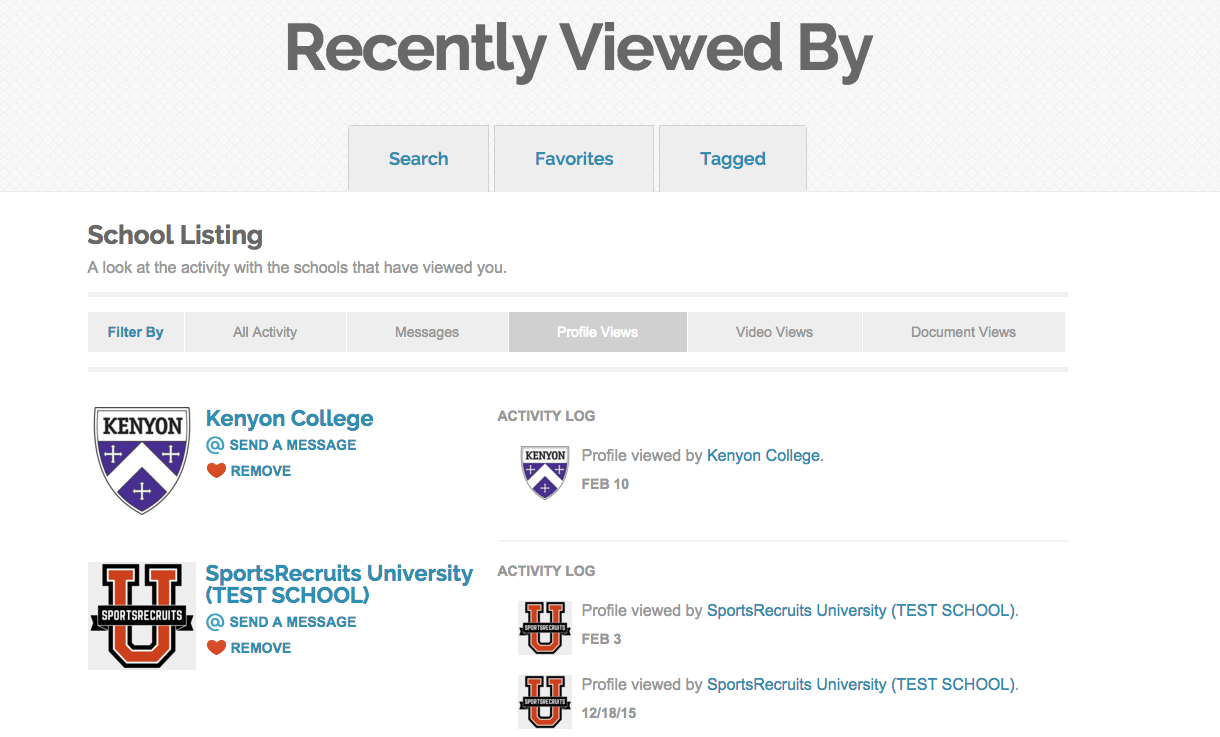 Platform Solutions: Proactivity
Without knowing when college coaches are viewing your video – something Youtube does not provide – there is no way to see emerging trends or target efforts according to interest received from college coaches.
On our platform, you can see which coaches have watched your video. This information is vital, as it allows you to target the school or schools that are showing real, genuine interest.
For club staffers, robust analytics provide insight into the activity of your teams and organization. Seeing the amount of work a student-athlete is putting into his or her process allows help to be targeted accordingly.
By having this information, the ball is in your court.
Knowledge is power.

The Abyss
If you posted your game video or highlight reel online in any number of places and did not hear back, you might interpret such a lack of response as a signal that you are not good enough to play at the next level. You might think coaches are not interested in you as a prospect.
However, this attitude is allowing the situation to dictate the process to you. This is not a reactive process!
Online, you have no idea who viewed your information. Maybe a coach did see it and maybe you are not a fit. But you have no idea! Knowing this fact would allow you to make a new plan, to broaden your search.
The recruiting process is competitive, and it is difficult to play at the next level. But stopping your search should not be the final answer!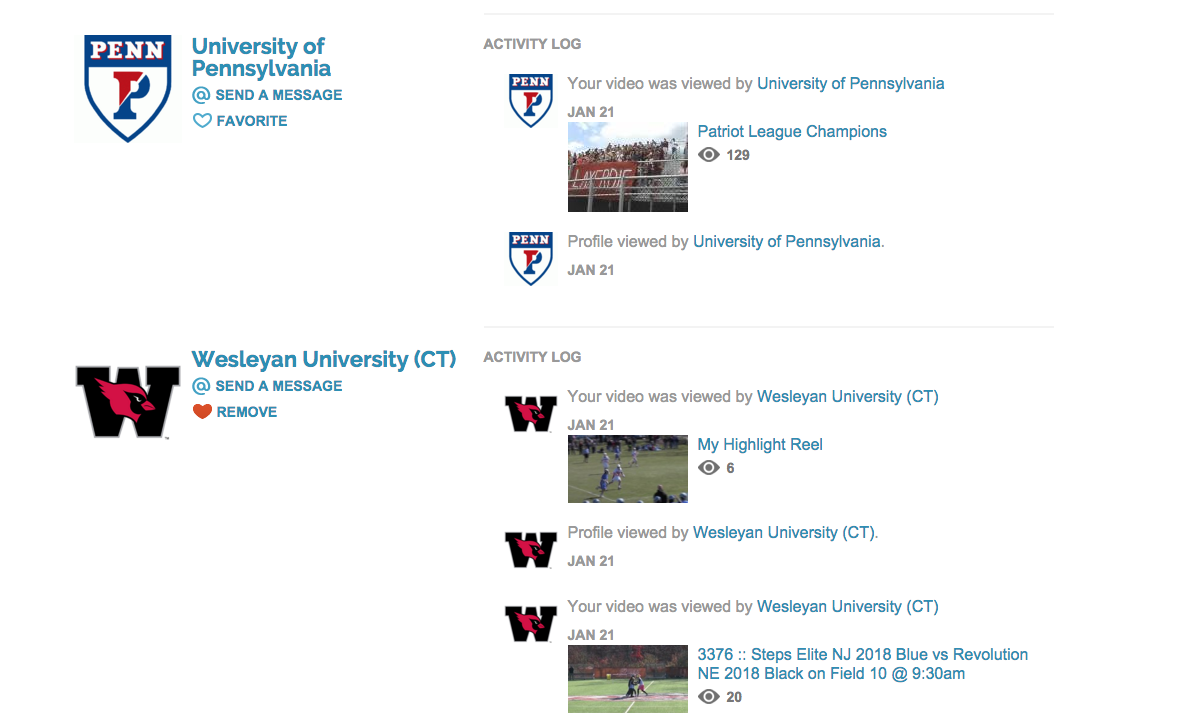 Platform Solutions: Keep Going
As a high school student-athlete, it can be very easy to get tunnel vision in the recruiting process. If you don't get a look from your dream school; or you are not feeling the love from the places your friends seem to be gaining traction, it is easy to give up.
However, this is exactly when broadening your horizons is the best idea. On our platform, you know if a coach viewed your video (have we mentioned that, yet?!). Using this information can help spur future activity.
Other tools on your profile – like the Search feature – can quickly give you a list of schools you may not even know existed using filters like region, size and academic selectivity.
Housing your video and waiting for something to happen in the interwebs is making the process reactive.
Housing your video our platform makes it proactive. And In the recruiting process, the best defense is a good offense.

Conclusion
YouTube is an outstanding resource, a way to quickly and efficiently house video for the world to see.
Recruiting, however, is not where YouTube excels. The inability to know when college coaches are viewing your information can have crippling effects on your recruitment.
By instead housing these same videos on our platform, via link on a preexisting site, puts you in charge. You know immediately which school has views your video, and when. Using this information keeps the recruiting process proactive, keeps you in charge and increases the chances for ultimate success.