SportsRecruits has launched updated features across all of its sport-specific platforms, which include SportsRecruits.com, SportsRecruits.com, SportsRecruits.com and SportsRecruits.net.
The research component of the college search and recruiting process is vital. Without adequately examining a school and ensuring it will be a good fit academically, socially and athletically, things can get chaotic – and quickly.
Given the importance of this process, we have updated our school pages to include data points that will further enhance our users' ability to find the right school for them.
Here are three highlights of this feature update!
School data is now broken into three categories: Admissions, Institutional Characteristics and Cost/Financial Aid. All of the information originates from the Integrated Postsecondary Education Data System (IPEDS), a program of the National Center for Education Statistics.
This information will further help the ability of our users to make informed choices as they do their research!
"Our analyses show that student-athletes who perform their due diligence in the college search process are significantly more likely to get recruited." said SportsRecruits Product Manager, Mike Robinson. "We're focused on providing our members best-in-class college research tools, which starts with comprehensive college data."
1. Admissions
Included in the admissions category is information such as acceptance rates, average test score ranges and school application requirements.
This baseline information will help a student-athlete have a better understanding of what the admissions department at a particular school is looking for in a potential student.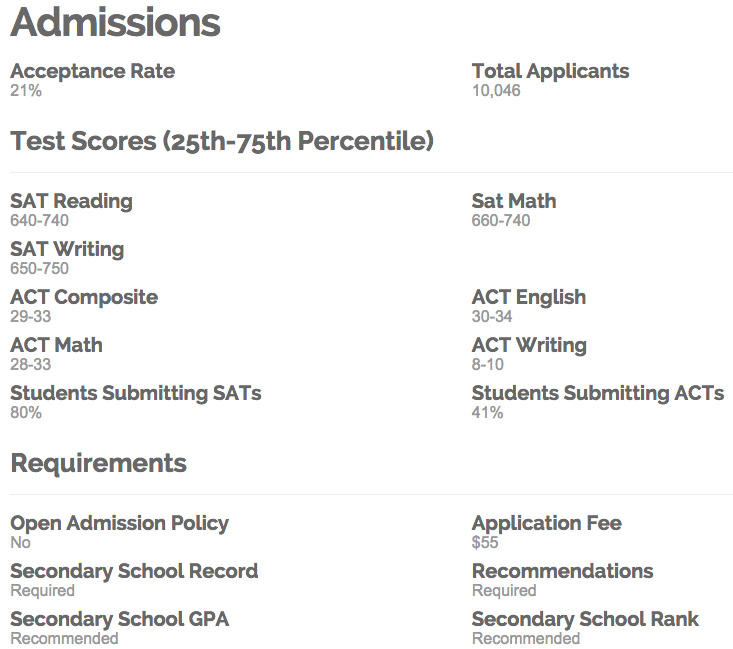 2. Institutional Characteristics
Included in the institutional characteristics section are things like the student-faculty ratio, the enrollment by gender and the graduation rate.
Getting a feel for this information will help a student-athlete understand the school from a general perspective, providing a small window into what campus life is like.
3. Cost & Financial Aid
This section includes financial data, including tuition, room and board information, in state vs. out of state costs and more.
This is key information, and will assist families when assessing schools relative to their own situations.